Activision Blizzard COO Speaks At Science, Technology Festival
Daniel Alegre shares career path as one of three keynote speakers
President and chief operating officer of Activision Blizzard, Daniel Alegre, was one of three keynote speakers for the Science and Technology Festival who spoke on Jan. 30 in the amphitheater. 
Alegre joined Activision Blizzard to become COO and president in 2020 after leaving Google, where he held various positions over 18 years. 
During his presentation, Alegre recounted his career history.
"If you look at my LinkedIn profile, and you look at my experience, there's no real rhyme or reason as to what my career path was," Alegre said.
He described growing up with a passion for music, dreaming of being a rockstar, but pivoting to working at a record label. He attended law school and business school before joining Bertelsmann Music Group. While there, he became part of a project that would merge the traditional music industry with the internet, and began to believe Google could help.
He sent a cold call letter to Google with a proposal and while the company rejected it at the time, Google offered him a job and told him that his ideas had promise. He ended up paving the way for Google acquiring YouTube.
"I joined when we were about 400 employees, 500 employees, and saw it grow to what is now about 130,000 employees," Alegre said. "It was a really interesting career for me because it was completely unexpected, you know?"
Despite not being a video game enthusiast himself, Alegre thought his transition from Google to Activision Blizzard was natural.
"Why was it that I love music so much because I really want to entertain people, to bring joy to people, to find ways for people to be able to connect," he said. "There was no better way than to do it through gaming."
Another reason was that he believed gaming had untapped potential as a growing industry with global revenue in the billions.
"The reason why I joined Activision Blizzard is I knew that with the advent of true digital connectivity, that the next iteration of a social platform is not necessarily Instagram or Snapchat or Facebook, it's gaming," he said.
Alegre's career development had much influence from his childhood. He mentioned that his father taught him several languages as a child, and the family, originally from Mexico, had lived in Toronto, Cancun, Germany, Spain, Tokyo, Singapore and Beijing.
"What my father and my mother really instilled upon us was this constant urge to understand different cultures and understand different worlds and perspectives," Said Alegre. "That has actually come really handy for me in my entire career."
While sophomore Lock Norris was not entirely impressed by Alegre's speech, he was fascinated by his stories of his childhood and real-life work experiences. 
"The presentation itself, seeing around the curve and staying three steps ahead, is like every chess metaphor ever, so that was honestly the generic part," Norris said. "What really stuck with me was not what he presented, but rather the frankly interesting stories which he told."
Sophomore Jake Wood appreciated Alegre's sentiments on taking risks and his honesty about career networking.
"He was following his passions and it led him to be wildly successful," he said.
Norris thought Alegre should have spoken more about Activision Blizzard, including recent controversies surrounding sexual harassment allegations and labor strikes at the company.
"Overall, the company has taken poor, if any, measures in response [to] the allegations to fire people," Norris said. "To me, it's a disgusting attribute of the company that should be addressed."
Still, Norris felt that Alegre's presentation succeeded in explaining his career path without making the process sound overly intimidating.
"[It showcases that] you don't have to radically change to start a professional career and become a successful businessman or woman," Norris said. "I think that was a very effective way of connecting with the student body."
About the Contributor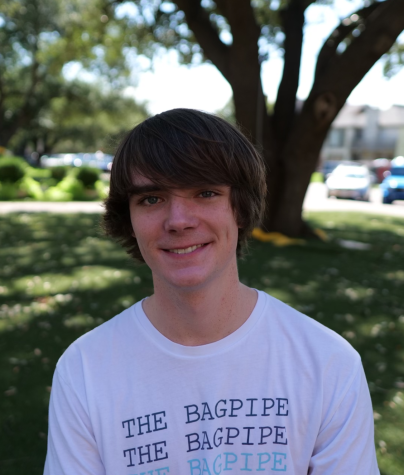 Will Gaffey, News editor
Top 3 bands...

Sublime, Beck and Red Hot Chili Peppers

If you had to be stuck on an island with a celebrity, who would it be?

Benedict Cumberbatch

What do you like to do to relax?

Lay down next to the window on the bench in my room with my cat