Flick Fest Fundraiser Screens "The Last Picture Show"
Writers George Getschow, Michael Mooney will lead post-screening discussion
Flick Fest, the annual fundraiser for the Literary Festival, will happen on Feb. 2 at the Angelika Theater at 7 p.m.
The event features "The Last Picture Show," a movie directed by Peter Bogdanovich set in a 1951 Texas small town. The movie is based on a book with the same name by Pulitzer-prize-winning author Larry McMurtry.
"The movie is in the [Library of Congress] in Washington, D.C.," LitFest co-chair Margaret Lesesne said. "It's one of the best movies ever made in this country."
After the movie showing, the committee will host a discussion directed by writers George Getschow and Michael Mooney, who personally knew and worked with McMurtry.
"That is the goal [of] Flick Fest," Lesesne said. "We bring in a special film that has meaning. We have people speak afterwards and have questions [to] answer to provoke thought."
Tickets for the event cost $35 each, and are available at hplitfest.com. The movie is rated R, so anyone under 17 must have a guardian with them to attend.
LitFest communications chair Pressley Peters encouraged people to attend the event.
"It is a fun time for people who love movies to get together and watch an important film, then be able to discuss it with amazing local writers who knew the author," she said.
Flick Fest raises money for LitFest programs devoted to getting students across the district interested in literature.
"It is a series of activities and events intended to inspire students and teachers in the community in language, whether written, spoken or sung," Lesesne said.
As a student interested in reading, junior Andrew Blackman supports the mission of LitFest.
"Nonfiction books are fun, but I wouldn't have figured that out if it weren't for my teachers encouraging me into the library," he said. "Kids can find an interest in anything, but the hard part is finding that interest."
About the Contributor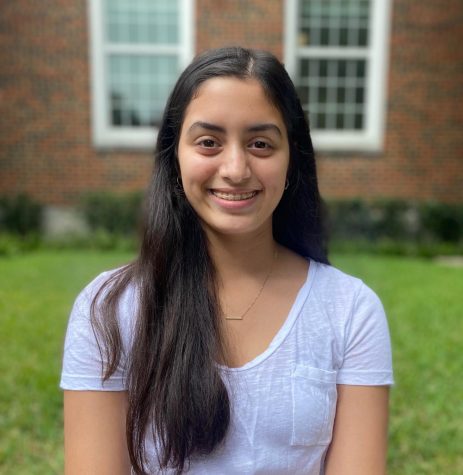 Mila Segal, Reporter
What is her favorite show?
Her favorite show is "
The Bachelorette."
What is her favorite news source?
Her favorite news source is CNN.
What is her go-to Starbucks order?
Her order is passion tea lemonade with 6 pumps of sweetener.