Robotics Club Takes On New Challenge
Team prepares for two upcoming competitions
Come May, the Robotics team will take on their next challenge, the VEX Robotics Competition. 
The team is currently working on their submissions for VEX, which will take place May 27-29, and recently competed in Bell Vertical Robotics on Dec 4. 
VEX competitions aim to grow certain qualities like questioning, tinkering and experimenting to help students build an identity as a student in STEM, according to the VEX robotics website.
Bell competitions are more focused with their goal asking students to "develop and implement various vertical lift prototypes to address dynamic transportation issues surrounding future emergency medical services, commuter travel, cargo movement, and more," according to the Robotics Education Competition Foundation.
Students in robotics are split into various teams. These teams compete in different competitions, like VEX or Bell.
This year, some members worked on the Bell competition. The theme was "Search and Rescue" and the challenge was to simulate a disaster caused by an earthquake that requires humanitarian aid and relief.
"There's these little spiro balls that roll around, they [represent] the people, and you try to save them from the harm of the earthquake," senior captain Pranjal Rai said.
Based off of the theme, the goal was to plan and construct a functioning drone to complete two phases of trials.
Phase 1 consisted of the base building and testing of the drone. It required the participants to assemble the drone, create a flight test and create and test a code before moving onto Phase 2. Phase 2 was the competition reveal and refining of the drones. After the reveal, students had six weeks to design, build and test the drone and create solutions to problems before competition.
"The drone has to drop packages on top of fake mock buildings, read a tag similar to a QR tag on the ground, determine its code and then light up an LED strip to signal to the people on the ground," senior captain August Ryan said. "It also has to help, with an FPV camera, navigate the ground robot, which is out of the line of sight of the driver."
As for the teammates not competing in the Bell challenge, they have the task of the VEX competition.g
"In addition to the Bell competitions, we have team members also working on VEX robotics competitions," senior captain Advaith Subramanain said. "Basically, this season you have to take rings and attach them to these different types of branches. It sounds simple, but it's obviously a little bit more complicated when you have to build it from scratch."
The name of the game for VEX builders is "Tipping Point" and the goal is to have the robots collect colored rings and put them over their appropriate poles. Scoring points from different rings heights or positions can gain a range of points. Whoever accumulates the most wins the game.
"
Through the robotics program I've learned to hone my critical thinking skills and problem solving abilities and how I approach a problem,"
— Advaith Subramanain
The playing field consists of 72 rings and seven poles. Each team has two team poles, with the other three being neutral. Competitors have one minute and 45 seconds to gain as many points as possible, meaning teams compete against each other on the clock.  
The robotics team competes in one VEX and Bell competition a year, although they are hoping to make it to more.
"It's a lot of coding, building, engineering, there's a lot of trouble that has come up, but we've been able to overcome most of it," Rai said.
Constructing robots from scratch takes time, so the team meets every Saturday from 10 a.m. to 12 p.m., however captains can occasionally call their team to meet during the week after school.
"At the meetings we spend time refining the designs for the robot and programming it," Ryan said.
In addition, Subramanain feels robotics has the unique ability to sharpen certain skills.
"Through the robotics program I've learned to hone my critical thinking skills and problem solving abilities and how I approach a problem," Subramanain said.
The class has also helped students with their career aspirations. Subramanain wants to go into the medical field and aid those who need medicare in disadvantaged populations. With the medical world turning to technology, he feels his experience with robotics will give him a leg up when it comes to his technological knowledge.
"The skills you learn, it goes beyond just textbook technology," he said. "It's about critical thinking and about logic and problem solving that you can apply into any field you want to go into."
Right now, the team has about 35 members, but they are always looking for more participants. 
"We have people coming from completely different social circles and we all come together and do common tasks," Subramanian said. "All of these people are genuinely such cool people."
About the Contributor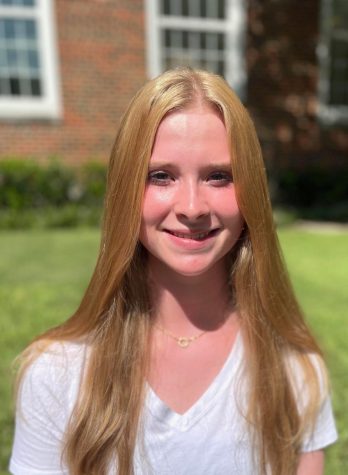 Katherine Harrell, Reporter
If she was stuck on a tropical island, what celebrity would she want to have stuck with her?
She would want
Sebastian Stan. 
What is her favorite dessert?
Her favorite dessert is brownies.
What are her top three favorite bands/artists?
Her favorites are Chase Atlantic, Kanye West and Doja Cat.