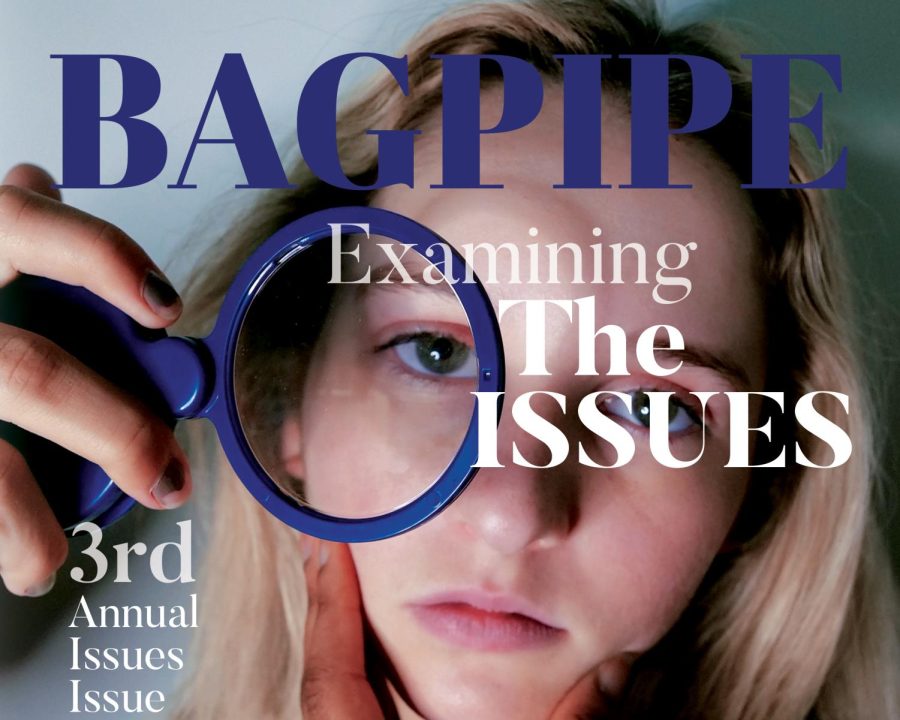 Third Annual Issues Issue
For first time, Issues Issue goes digital
Dear Readers,
The Issues Issues is a Bagpipe tradition. We dedicate one issue each school year to the topics most heavily impacting our audience. The common thread through all of them is the issues have weight. They grasp tightly to those they affect and those they fascinate, and they refuse to let go.
We'd like to thank our reporters and editors for their tireless work and dedication to making this magazine a reality. Together, we've created an issue that takes a litany of prominent but often confusing topics, and puts them under a magnifying glass, as the cover depicts. It both examines and explains. What was once hazy becomes clearer.
The biggest questions have no easy answers, and the Issues Issue promotes considering them with this fully in mind. In a world where manipulatively simple, dishonest talking points abound on social media, it's an asset to be able to use complex information and multiple perspectives to consider issues logically. To that end, we have provided, wherever possible, additional data for a fuller picture of an issue. 
If the Issues Issue is about weighty topics, it's difficult to name a topic more weighty than war. The war in Ukraine has already claimed thousands of lives and displaced millions more, and we provided a window into the horror that plagues those living in the midst of an invasion. 
It would be wrong, then, to describe this as simply an issue that just explains, because though our story on Ukraine is intended in part to clarify the facts of the conflict, more than anything it makes you feel. The true power is in the human element. Though you may never understand what people living in a war zone go through, our hope is that this story brings you a little closer to knowing their pain. 
The second best way to understand the Issues Issue is as a collection of problems viewed through different complementary lenses, no more sober analysis than powerful anecdotes. The first best way to understand it is to read it.
Thank you for reading the Bagpipe and for your continuous support of student journalism. If the contents of this issue drum up any thoughts within you, feel free to share them with the editors at [email protected]. 
Warmly,
Jeneta Nwosu
Lucy Gomez
Editors-in-Chief