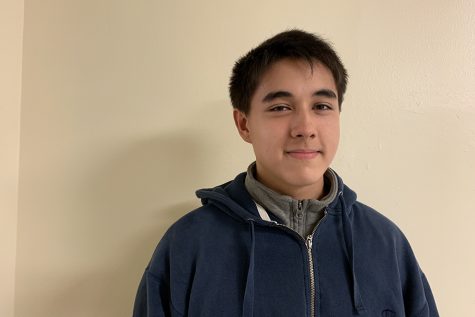 How many years have you been in newspaper?
This is my third year with the Bagpipe and I was on the middle school staff for a year.
What are you involved with at HP?
Pre-med club, philosophy club.
What do you do in your free time / what are your hobbies?
Biking and video games.
What is your favorite ice cream flavor?
Strawberry.
What is your favorite music genre?
Alternative rock
Tyee Arey, Staffer
Sep 25, 2019

PAX: Perfect Gathering Of Gamers

(Story/Media)

Apr 25, 2019

El Chapo's retail legacy

(Story)

Mar 25, 2019

'Pokémon GO' and modern warfare

(Story)

Mar 21, 2019

Spider-man: Into the Spiderverse review

(Story)

Oct 25, 2018

Student researches own colorblindness

(Story)

Sep 27, 2018

"Avengers: Infinity War" review

(Story)

Sep 24, 2018

Trip to…the moon?

(Story)

May 21, 2018

The CDC's steps to protect the food supply

(Story)

Apr 19, 2018

HPMS eSports league

(Story)

Apr 18, 2018

Robotic reptiles?

(Story)

Mar 27, 2018
Feb 20, 2018

The battle against antibiotic resistance

(Story)

Feb 12, 2018

Chinese scientists propose a laser to destroy orbiting junk

(Story)

Feb 07, 2018

The Trolley Problem

(Story)

Jan 22, 2018

Automated Fast Food

(Story)

Dec 14, 2017

Putin announces that he will be running for another term

(Story)

Nov 21, 2017

UPS Partners Drones Delivers Crucial Medicine

(Story)

Nov 21, 2017

New star cheats death multiple times

(Story)

Nov 07, 2017

Coral Reefs are in danger

(Story)

Oct 31, 2017

The De-extinction Debate

(Story)

Oct 24, 2017

Chinese Tiangong 1 and Space Stations' crash to Earth

(Story)

Oct 09, 2017

Tennis Scots Start the Season Strong

(Story)

Oct 03, 2017

Highland Park High School enters its first novice debate tournament

(Story)