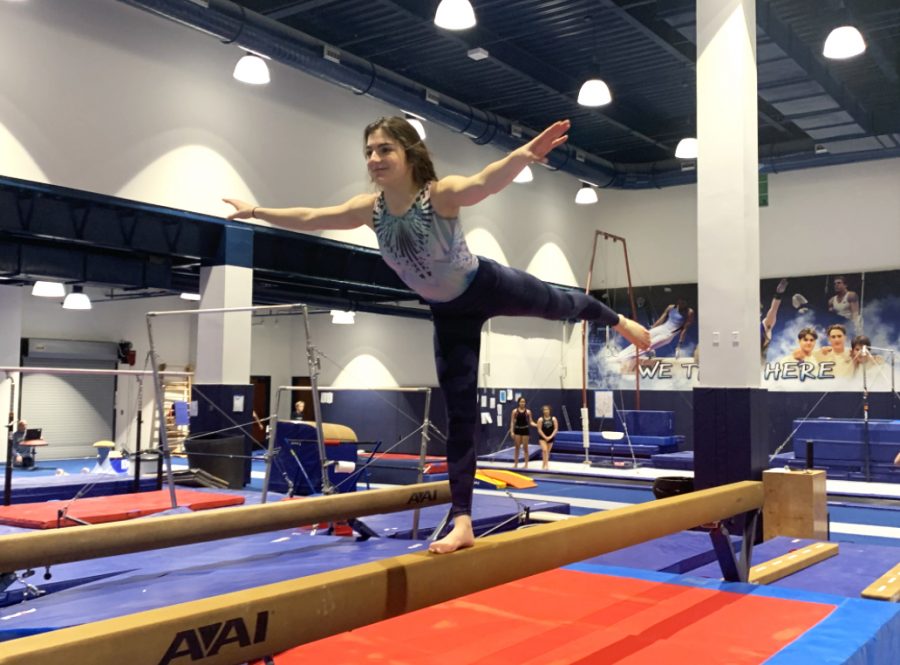 Photo by Juliana Stimac
At the end of last year's season, the boys varsity gymnastics team took sixth place in the state, while the girls varsity team scored eighth.
After the 2021-2022 season kicked off in October, the teams are now competing in district-level matches in the hopes of advancing to the state competitions as they did last year. As UIL does not govern gymnastics, the Texas High School Gymnastics Coaches Association determines competition guidelines, which includes the division of schools into regions and districts.
Gymnastics is officially divided into skill levels, which range from one to ten and from then on gymnasts are designated as elite. The skill level is determined by the gymnast's ability and which skills they can perform. However, they are not necessarily the main benchmark for determining the guidelines for the teams' meets. 
"We don't really do level in high school, we just have two seasons called compulsory and optional," senior Abby Sabatini said. "Compulsory is an easier season [around Level 5] and optional is Level 6 and up." 
In "compulsory" gymnastics meets, every gymnast must do a predetermined, set routine for their level, but "optional" is a more flexible competition, allowing gymnasts and coaches to build a routine around a set of guidelines.
The compulsory meets happen towards the end of 2021, while the optional meets start in January.
Gymnastics practices run for two hours from 2:45-4:45. Many of the gymnasts enjoy the sport despite the time commitment.
"We used to get out earlier and practices are now a little longer, but it's fine," Sabatini said. "It's not too hard to manage schoolwork with it."
Some of the members on the team have been practicing gymnastics from a young age, like Sabatini, who started when she was three years old. Junior and team captain Clay Staunton started when he was five years old and hopes to continue in college.
While the team has some veteran members, it welcomes new recruits.
"I started gymnastics in seventh grade with my friends as just something to waste time and then I continued it from there," freshman Era Johnston said.
The team has members with varying levels of experience with gymnastics, but each member still gets to work and learn together.
"It's been pretty fun," Johnston said. "I love the coaches. They're really helpful and they also let us have fun."
 The boys and girls gymnastics teams showcased their skills during the pep rally on Oct. 15. The choreography was arranged by boys coach Mark Sherman and girls coach Brandi Wren.
"We practiced the whole week to prepare for it and then we didn't really get anywhere, so the day-of, we actually put it together," Johnston said. "It was very spontaneous."
During the pep rally, Johnston bridged on a foam block while other gymnasts flipped over her.
"When I did it at the pep rally, people had only flipped over me twice in my life, so it was very scary," Johnston said.
Staunton said he enjoyed performing in front of the school and hearing feedback from pep rally attendees.  
"After the pep rally, a lot of people were like 'Oh my gosh, it was so cool,' and it made me feel good." Staunton said. 
The next week on Thursday, Oct. 21, the boys team had its season opener against Garland Lakeview Centennial High School and won with a score of 171.5 to Lakeview's 160.3. 
The members of the team also occupied the top five best individual all-around competitors, with Staunton in first, junior Austin Chapman second, sophomore John Sartain third, sophomore William Benz fourth, and freshman Ryder Greene fifth. 
The team's high score, out of the ten teams in the state that have competed thus far, is the highest in the state ranking. 
The next meet is a compulsory meet on Thursday, Nov. 18 at Brandenburg Middle School, where both the girls and boys team will compete.