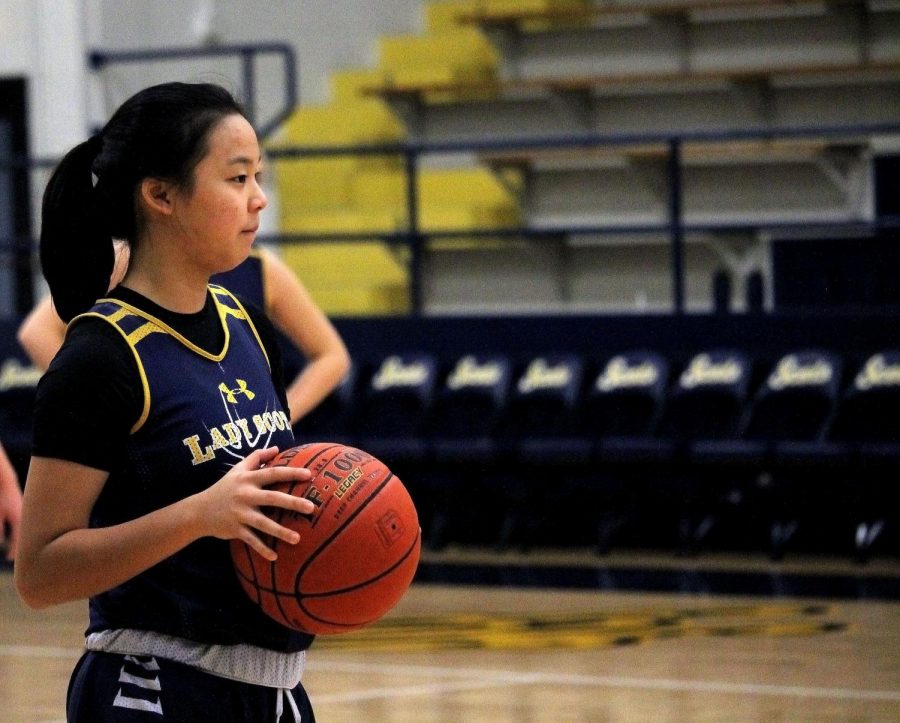 Photo by Katherine Harrell
The Lady Scots Varsity Basketball team started the season with a victory against Rockwall Heath High School on Nov. 9.
"We're confident we have a good team this year," sophomore point guard Audrey Walker said. 
The team ended their last season on a low note after they lost in the third round of playoffs. The loss was particularly disappointing for senior captain Avery Turner.  
"Losing in the third round was heartbreaking," she said. "It sucked because we lost by two points, and honestly, we should've won, but knowing that we did the best that we could, that's all that anybody could ask for."
Although the loss was upsetting for Turner, the team is making an effort to turn things around and play stronger this year. Head coach Nicole Fleming used to coach at Duncanville High School where her basketball team won state. Fleming occasionally hangs up Duncanville's state medal on the railings during practices.
"It's supposed to be a physical and visual motivation," Turner said. "When in practice, if you're having a low practice or if you need some motivation that day, you can look over and see that and be like 'Ok, that's where I want to be, that's what we're working so hard towards' to be able to keep going, keep pushing yourself."
The team has been conditioning, so they will have the endurance to tire out their opponents. 
"We've been getting up early every morning," Walker said. "In the off-season we practiced after school on Mondays and Tuesdays, and we did a lot of weight room and conditioning."
Since the start of their season, in mid-to-late October, the girls have been at school for morning practices that last from 6:00-7:45, returning for another hour of practice during fourth period.
"Each day we run our drills and get a little bit better at it," Walker said. "We do little drills like trapping one day, and then we'll do a box out drill the other day, and then we kind of put them together at the end of practice and just scrimmage it out and work on what we need to fix."
The team's first scrimmage was on Oct. 30 against Marcus High School. Junior Vivian Jin believes scrimmages are a good marker of the team's strengths and weaknesses.  
"I think scrimmages are more for us to work on and see what we need to improve on for the season," she said.
Despite needing improvement in some areas, Walker is confident the team will do well this season.
"We all have good basketball IQ, said said. "We all know the game, and I definitely think it will take us far this year."