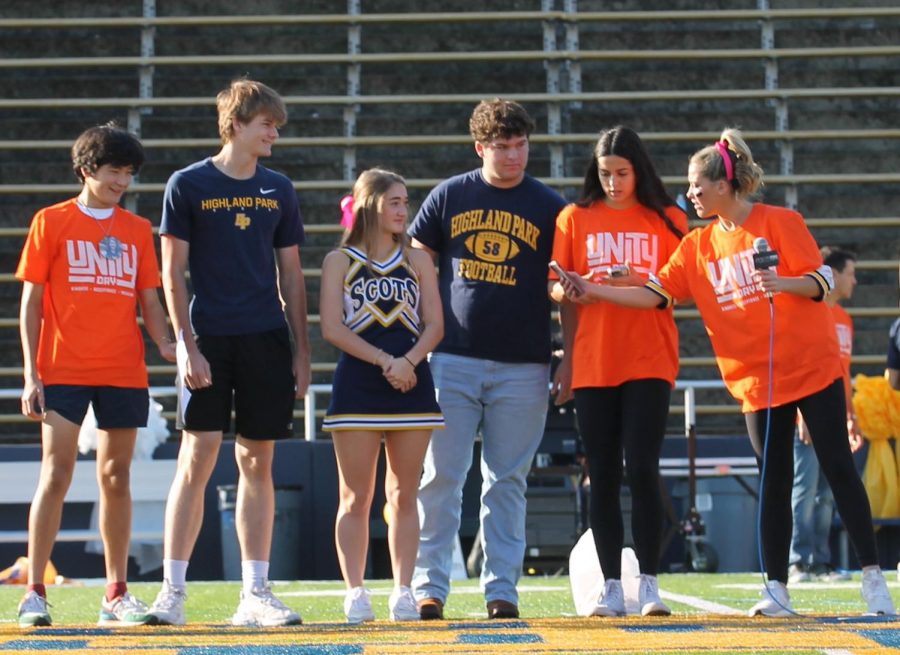 Photo by Matteo Winandy
The student council traveled to HPISD elementary schools for their program, Project Respect, which promotes compassion among students.
They meet with elementary school students monthly either before or after school. The meeting take place with either leadership clubs, like John S. Bradfield Elementary School's Kindness and Compassion club, or all students, depending on what guidelines the school sets.
"Each one of the student council members will lead a table discussion with about four to six fourth graders and talk about a different word a month," Hinton said.
These words include words like respect, kindness, diversity, honesty, integrity and courage. The word for October was respect.
"We went and did it, and I ask my group, a bunch of fourth grade girls, 'How would you define respect?' and they tell me," senior and Executive Ambassador Katherine Anne Massey said. "Then I say, 'How can you show respect to your teachers? Who do you look up to in respect?'"
After starting with guiding questions, the elementary school students participate in activities based on the questions and the word of the month. 
In addition to elementary schools, the student council goes to HPISD's McCulloch Intermediate School and Highland Park Middle School. 
"Kids were very inquisitive and eager to learn about Project Respect and the message that we have for them," student council Executive President senior Ava Tiffany said.
The group started Project Respect six years ago after a rise in students insulting others based on religious and ethnic backgrounds.
"We kept hearing this happening, and we did not like that," sponsor John Hinton said. "So as [the] student council, we can help do something about it and change the culture of our school and our district."
In the name of the initiative, "Project" is pronounced like the action of projecting, rather than the noun project.
"Our idea is that we are projecting out [respect], and that we will have a positive domino effect that is reaching out to the whole district so that students are being kind and respectful towards each other," Hinton said.
A set section of each pep rally is dedicated to Project Respect. The student council selects two students from each grade level to go to the middle of the gym and get a shoutout, some cookies and a certificate. They look for students who exemplify the values of Project Respect.
"They're inclusive, kind, compassionate, helpful, uplifting and just, overall, a moral well-rounded good person," Tiffany said.
Project Respect's segment in the outdoor homecoming pep rally strayed from its usual formula. To highlight National Unity Day and its anti-bullying message, the teachers flooded the field and danced to "We're All In This Together," and the student council honored students from each grade level for being "Unity Builders." The student council also celebrated the week before on Unity Day's true date, Wednesday, Oct. 20, wearing orange t-shirts to mark the occasion.
Another specific Project Respect event, Inclusion Week, is scheduled for December. The student council plans to promote under-recognized groups and school organizations. 
In the past, the group shared about Project Respect at Race to End Racism forums they hosted, with more than 30 schools and 400 students in attendance. 
"A lot of what we have talked about has stemmed from the idea of Project Respect," Hinton said. "It is something we like to encourage other schools to do."
Hinton has started to see Project Respect improve the school culture.
"In the last couple of years, I have definitely seen growth and the students are definitely being more appreciative and kind to the teachers," he said. "There is still a lot to be done, [but] I have seen the positives coming from the program for sure."
Hinton hopes the work in Project Respect will help students make a habit out of values like integrity and courage.
"It will become natural, and people will just be like, 'Yeah, we know we're supposed to be kind to everyone, respectful and inclusive to everyone and value diversity,'" Hinton said.
Tiffany hopes that after she leaves the school, Project Respect expands, so every student both knows about it and behaves the way it promotes.
"The whole goal is to really make every HPHS student feel like they are respected and cherished," she said.