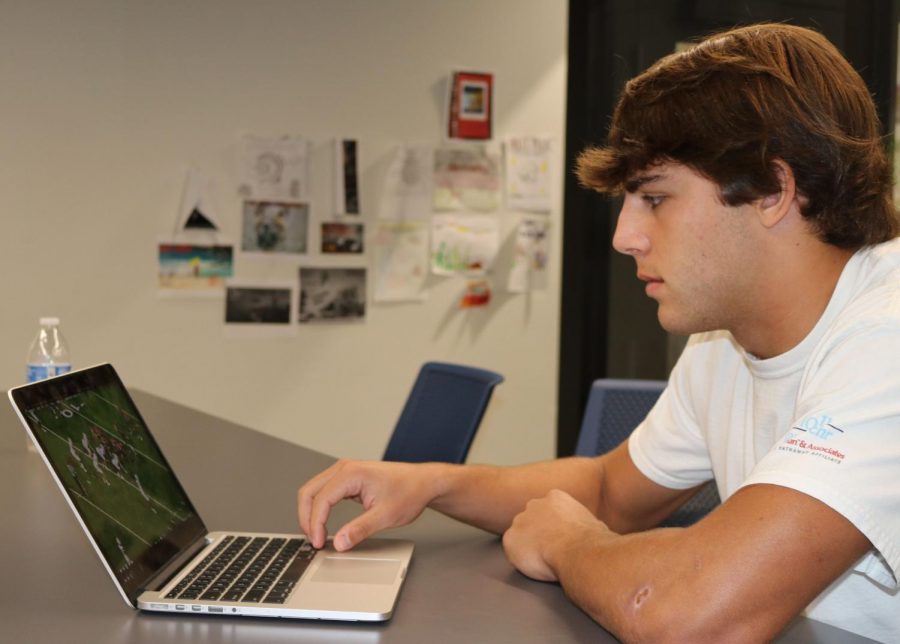 Photo by Olivia Howse
 The varsity football team just secured a district championship for the sixth year in a row. If the team wins a state title this year, they will give head football coach Randy Allen a fifth championship win. 
In order to make it to the state championship, the team needed to endure and stay fresh through the long season, according to senior captain and wide receiver John Rutledge. 
"[It's] super tiring, but we just have to get out there every week and give it our all," Rutledge said.
The sole loss, the team's first game of the season, was against the 6A school Southlake Carroll, which ended in a score of 21-45.
The following week, the team beat Rockwall, a 6A school, 31-52. Senior captain and outside linebacker George Wright said they were expected to lose by over 20 points. 
Despite losing the season opener, the senior captains felt confident in their chances of winning a state title this year, especially after their victory against Rockwall.
"Everyone on the team already knew we had what it takes for state, but the public was doubting us, and this win reassured the team and let the public know just how good we are," Wright said. 
Before beginning in-district games, the team played against opponents outside the 5A district. 
"Coach Allen likes to schedule us the toughest games possible to get us ready for later games," senior captain and wide receiver John Rutledge said. 
Senior cornerback Blake Bevans thought the team had improved since its loss.
"I feel like we were inexperienced at the beginning but just gaining more experience helps," Bevans said. 
Wright said because players on the team didn't play as much last year as they typically do, they have less experience than usual.
"We are a young team, an inexperienced team, maybe because we lost a great senior class last year," Wright said. 
Wright felt pressure to continue the legacy of the class before him. The class of 2020 had many players who continued their football career in college, including alumni Prince Dorbah and Paxton Anderson, who are playing at the University of Texas at Austin and alumnus Chandler Morris, who is playing the quarterback position at Texas Christian University.
"They won two state championships because that senior class won as juniors and seniors, " Wright said. "So, there are a lot of expectations." 
He believes the team can improve defensively, especially by preventing third-down conversions.
"Often, we can't keep the drive alive, and so we give the offense the ball and their opportunity to score," Wright said. 
The captains felt confident in their coaches' leadership. Wright praised coach Chase Davis specifically. 
"It is one thing to have a great coach like he is, but then to also have a coach you know and respect and are great friends with on a more personal level, has definitely helped," Wright said. 
 Conversations with his position coach, Colin Stringer, reinforced Wright's opinion that the team could succeed at the state level.
 "I think the chances are great," Wright said. "We have the parts in a team to be able to win a state championship."