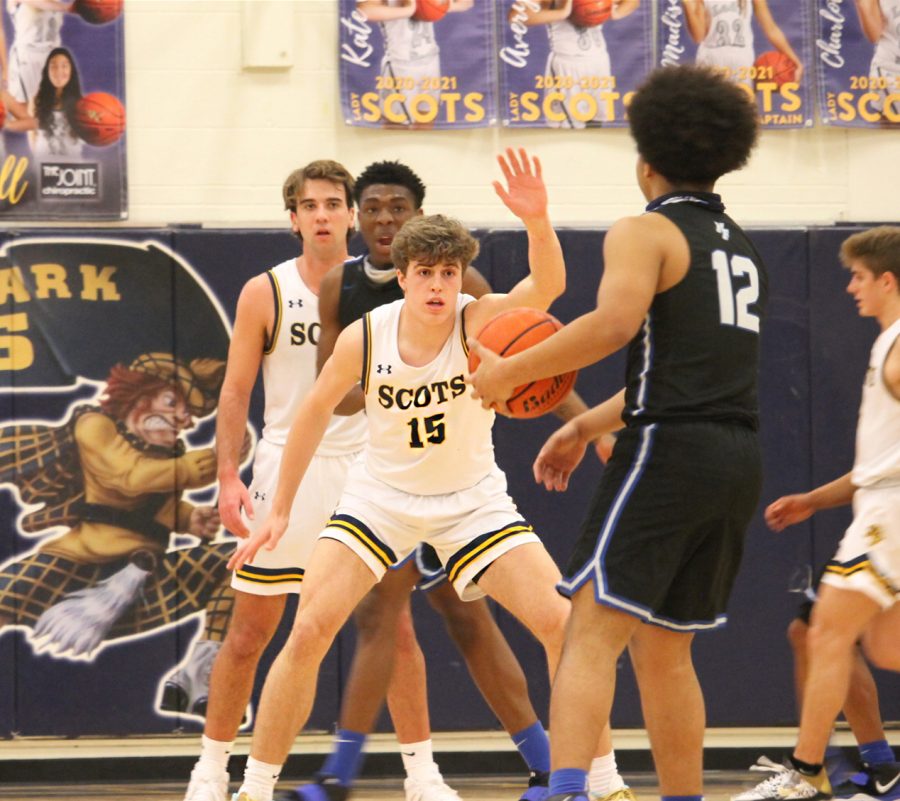 Photo by Reese Greenlee
The varsity boys basketball team defeated North Forney 61-49 in the main gym on Wednesday night.
"Our emphasis was to take care of the ball, focus on our offense and keep them from rebounding on defense," head coach David Piehler said. "I think we did a really good job of keeping them off of the offensive boards."
The win placed the team in the lead for district. Before this game, North Forney was considered the best team at 4-0, and the Scots were in second place at 3-0.
"First place is nice. We all like it," Piehler said.
The players said they were proud of their performance tonight.
"I think when they came out with intensity and pressing shots, we locked up on their shooters," sophomore Drew Mcelroy said. "Shooting out their two shooters were big because that's where they got their intensity from."
Both the coach and teammates agreed Mcelroy shined in the game.
"Someone who provided a ton of spark was Drew Mcelroy," Piehler said. "We were kind of flat, and he came in and provided us some energy and got some great rebounds and played awesome defense. I was proud of them because as sophomores, they don't have a lot of experience, and they did awesome tonight."
Sophomore Jackson Heist, who plays forward, agreed that Mcelroy led the team to victory by hitting two crucial three-pointers and forcing turnovers.
When these three-pointers were shot, a crowd of senior boys jumped up and cheered. Over 30 students came out to support the team.
While the scots team and fans were happy with the outcome of the game, a player on the opposing team said they could have done better.
"We didn't execute, and Highland Park can shoot," North Forney player Devin Frank said.
The Scots' captain is hoping for a playoff run.
"I see us finishing the first half of district undefeated," said senior captain Mitchell Carew. "If we continue to play well, we should go into the playoffs undefeated and ready to make a run."
Principal Jeremy Gilbert attended the game.
"I love the way our team shares the ball," Gilbert said. "They are more excited about an assist than a basket. I was excited at how they represented the Scots."