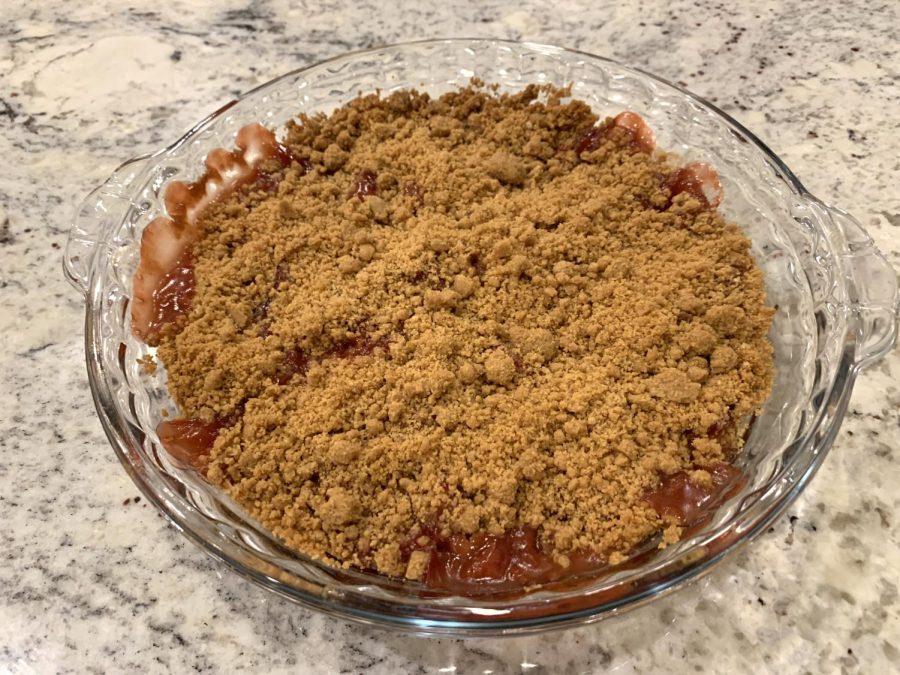 Segal's Strawberry Crumble
December 12, 2022
Most families make special foods just for the holidays. In my family, that special food is strawberry crumble.
 Strawberry crumble was introduced into our family by my grandma. One Christmas Eve, my sister and I were begging our grandma to make a dessert. She was open to the idea, but wanted us to make a healthier dessert because we had stuffed our mouths with all kinds of sweets earlier in the day during our Christmas Eve day activities. 
She suggested that we make strawberry crumble- a recipe she said she used to make with her aunt a long time ago. My sister and I were excited to make a new dessert that we had never had before. We made it that evening and had so much fun making it with our grandma while excited for Christmas morning the next day. 
Strawberry crumble is a unique dessert. The bottom of the pan is filled with strawberries with a graham cracker crumble crust on top. This strawberry crumble is one of my favorite desserts because it is sweet, light, delicious and refreshing.
Once baked, the strawberries have a jelly-like consistency that tastes perfectly with the crispy graham cracker crust. The graham cracker crust is my favorite part of the whole dessert. It is sweet, salty, and a little bit crunchy and it tastes exquisite with the mushy softened strawberries. Graham crackers also have a strong taste, unlike regular pie crust that is bland. This graham cracker crust has a sweet, vanilla taste that consumes the mouth and brings nostalgia to when I was younger and used to use graham crackers to make s'mores. 
Though, there is one thing better than the graham cracker crust and that is the smell of the house as it is baking. While the crumble is in the oven, it creates a grand smell that spreads to every corner in the house. It smells like a sweet cookie Christmas candle and leaves everyone with their mouths watering. 
This is a dessert that is great for making with families because it is simple and multiple people can contribute to different parts. Someone can cut the strawberries, someone can crush the graham crackers, and someone can melt the butter. It is a great family bonding activity as well as holiday activity.
Strawberry crumble is a good dessert option to make because it is relatively healthy, and quick to make. It is a hit for both adults and kids and goes perfectly after any meal. I look forward to making strawberry crumble after Christmas Eve dinner with my grandma every year and will keep this tradition forever.
Ingredients
1.5 lbs fresh whole strawberries

5 tablespoons brown sugar

¼ cup and a tablespoon all-purpose flour

½ teaspoon Kosher salt

1 sleeve (9 pieces) of graham crackers

4 tablespoons butter

1 teaspoon vanilla extract
Instructions
Preheat the oven to 350 degrees

Cut the strawberries into into ½ inch pieces (about 2 ½ cups)

Mix the strawberries, 3 tablespoons brown sugar, 1 tablespoon flour, and ¼ teaspoon

Kosher salt into a mixing bowl and combine well. Transfer into a 9-inch round (or 8-inch square) baking dish

Finely crush the graham crackers using a food processor or a gallon-size sealable bag

and a rolling pin

In a medium mixing bowl, whisk together the crushed graham crackers with ¼ cup flour, 2 tablespoons brown sugar, and ¼ teaspoon kosher salt

Melt the butter and mix it with the vanilla in a small bowl. Stir this into the graham cracker

mixture until the mixture is evenly moist and heavy crumbs are formed

Sprinkle a generous amount of the graham mixture over the strawberries

Cover with aluminum foil and bake for about 30 minutes or until the crust is golden

brown and the fruit juices are bubbling around the edges of the pan

Remove from the oven and let cool for 5 minutes. Serve with vanilla ice cream on top if desired