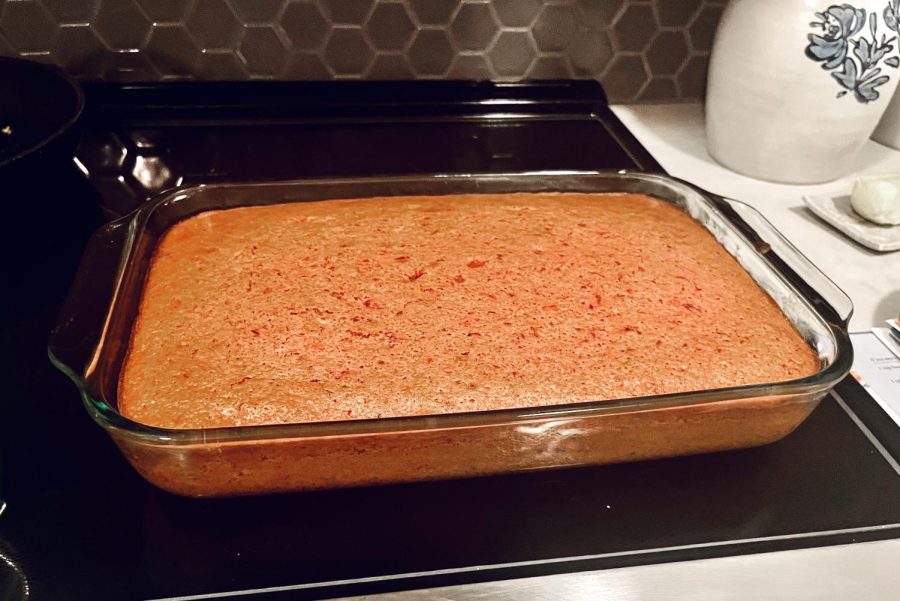 Knutson Family Strawberry Cake
December 12, 2022
While I look forward to many amazing foods during Christmas dinner with my family, nothing could ever replace my family's strawberry cake. This recipe is the first request at any family event and has brought so much joy to my family for six generations, even with its sweet simplicity. No one in the family knows how my great-great-great grandmother found this recipe, however there is a possibility that it was just an old Betty Crocker recipe.
I have photos of me enjoying this sweet treat since I was born and can't remember a family gathering where it wasn't present. My grandma makes sure to bake it for every birthday and holiday.
Even though this recipe does use a regular white cake mix, the addition of a few ingredients really makes the recipe special. The cake is extremely moist and every bite is delicious.  
My namesake, being my great-great-great grandmother, was the first to make this recipe. Normally, I make this recipe with my grandmother, I can remember baking it with her as just a toddler. I can't remember the last time that I didn't make this cake with my grandma for my birthday, which has led to some of my favorite memories. 
One time that sticks out in my mind is when we first moved to Dallas and my family wanted to make the cake for my birthday. It was late at night but my mom was insistent on baking this cake on my birthday. We drove around for what felt like forever to find a grocery store that was open. We finally found one, but had to change some of the ingredients because the store we were at was not well stocked.
We used yellow cake mix instead of white cake mix, and made a few other substitutions while we were making the cake. After it was baked and we tried it my mom decided that she loved this cake more than the original recipe. Since then she has always made the recipe this way and it always reminds us of our fun adventure that night.
While this step isn't necessary, my family pokes the cake with a fork when it comes out of the oven to create small holes for the icing to seep into the cake, and then we immediately pour and spread the icing over the cake. If you don't like strawberries you can substitute most fruits for them.
This strawberry cake is perfect for Christmas or any other occasion and can be served warm or cold, according to your preference.
Cake Ingredients
1 Package of white cake mix (or yellow cake mix)

1 Package of frozen strawberries (thawed)

Reserve ⅓ to ½ cup for icing

1 Package (3oz) strawberry Jello

1 Cup oil or applesauce

3 Tablespoons flour

½ Cup of water

4 Eggs
Icing Ingredients
Reserved strawberries

2-3 Tablespoons of butter

3 Cups powdered sugar
Instructions
Preheat the oven to 350° and grease a 9 by 13 baking dish with butter.

Mix ingredients for the cake together using a hand mixer in a large bowl.

Pour mix into the baking dish and bake for 25 to 30 minutes until a toothpick comes out clean.

While the cake is in the oven, mix all the ingredients used for the icing together using a hand mixer in a large bowl.

After taking the cake out of the oven, pour icing over the cake and serve. Enjoy!