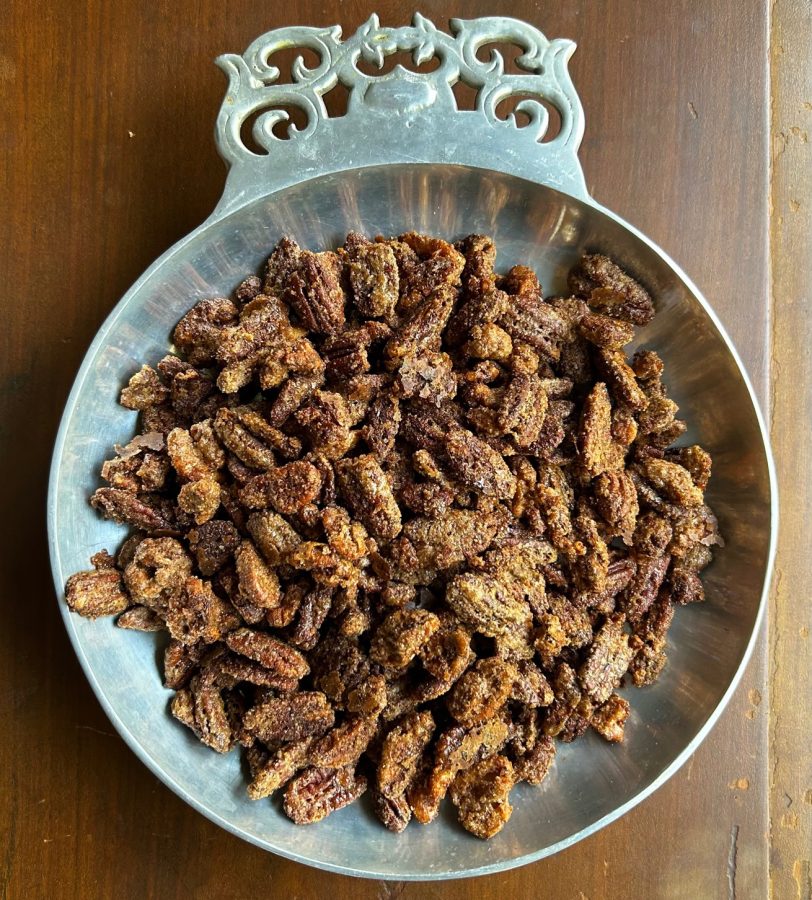 Spiced Candied Nuts
November 3, 2022
Making spiced nuts is an annual tradition for my grandma. She makes a huge batch and sends them off to friends and family while of course keeping a few for my brother and I. When she makes them, the cozy and comforting aroma wafts throughout the entire house.
These spiced nuts were a part of my grandma's childhood. Her father, my great grandfather, used to get tons of business gifts. One year, it was a giant box of spiced nuts. They received them every year and eventually my grandmother moved out and forgot about them until the '90s when they popped up again. She has made them every year since as gifts and to keep around the house.
These nuts are really great by themselves as a quick snack, but could be put some in trail mix, granola, on top of a salad or just served at a party. They are particularly popular with my family during the holiday season.
To make these nuts you only need a few simple ingredients including a mix of nuts, spices, an egg and sugar. You can use any nut you like as any kind works well with this recipe.
When whipping up your egg whites, you want them to be frothy and not stiff peaked or simply unwhipped. Frothy eggs should have a layer of bubbles at the top, but should be relatively the same runny and liquidy texture of a normal egg.
Feel free to add whatever spices you prefer, such as nutmeg or ground cloves for a more fragrant approach. If you aren't a big fan of spice, cutting out the chili powder is an option, but with the little amount that's added, the spice level shouldn't be a problem.
Mixing your nuts around while baking is especially important to make sure the sides of the nuts on the pan aren't getting too caramelized. You can just pull the rack out of the oven slightly to stir the nuts or, to avoid potential burns, take the whole pan out and stir on the counter. 
If you are looking for a small present for neighbors or extended family, this is a fantastic option. 
Ingredients
(Makes 4 cups)
⅔ cup sugar
2 ¼ teaspoon salt
2 teaspoons cinnamon
½ teaspoon allspice
1 ½ teaspoon chili powder
1 large egg white
4 cups mixed nuts (walnuts, almonds, pecans, cashews, and/or pistachios)
Instructions
Preheat oven to 300 F and line baking sheet with parchment
Mix sugar, salt and all spices in small bowl
In a large bowl, whisk egg white until frothy then mix nuts in and toss till evenly combined.
Sprinkle sugar mixture over nuts and mix together.
Spread nut mixture evenly over the baking sheet and bake till dry for about 45 min, stirring once or twice.
Let cool to room temperature.