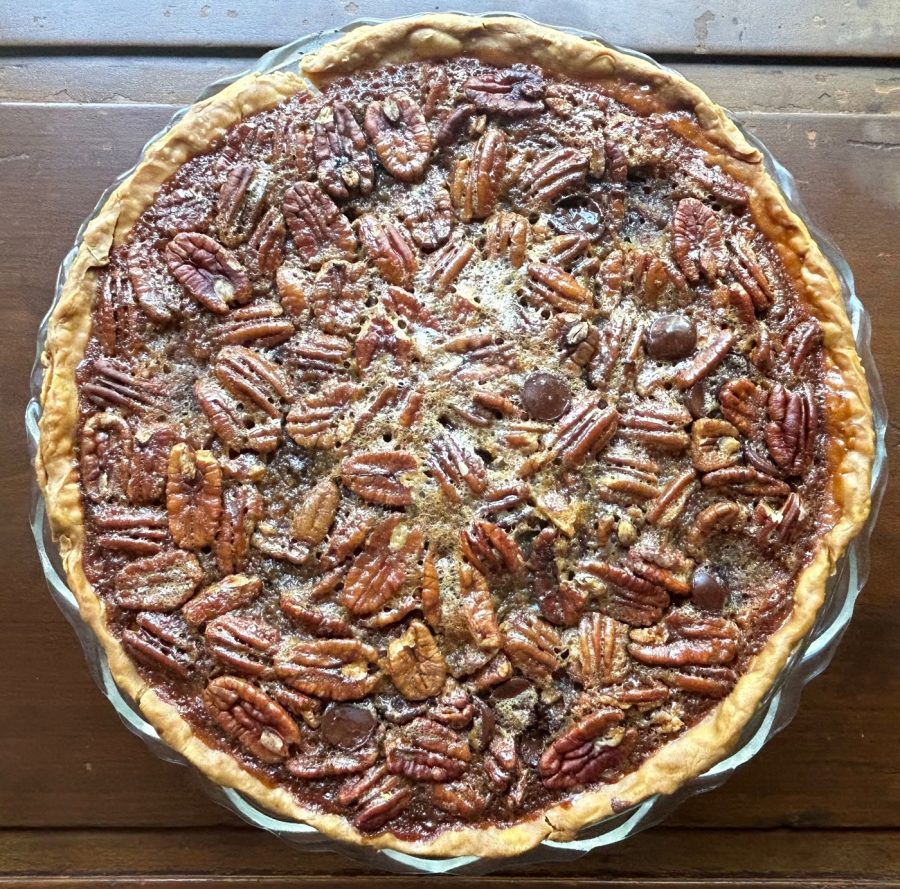 Chocolate Pecan Pie
November 3, 2022
Every Thanksgiving in my house is the same. We spend hours preparing the food and when the feast is over and done with, my stomach is stuffed full. I am forced to sit and listen to the dull conversations that many adults love having on Thanksgiving, however, my boredom is worth it because in a short while, it will be time for desserts. Thanksgiving and desserts means chocolate pecan pie, my favorite fall treat.
I've loved chocolate pecan pie for as long as I can remember. I don't think I have ever experienced a fall without this buttery delicious dessert.
This recipe is similar to the common pecan pie, but it has chocolate chips and a hit of bourbon. It is rich, thick and tastes great with whipped cream.
My dad was the first to make this pie in the early 2000's. A few years back, I was helping him make it and the sugar mixture was taking a long time to cool, so we left the pot outside in the 40 degree weather to cool faster. You have to let the sugar mixture cool completely before mixing it with the eggs or it will scramble the eggs. I sat with the pot for at least 30 minutes because I was so scared it would blow away. 
I prefer to use pre-made pie crust rather than homemade. However, if you do go that route, don't make a graham cracker crust or bake your crust before putting in your filling because it will burn to a crisp.
The pie does include alcohol, which is fully cooked when served. You can use bourbon or whiskey to make the filling. If you don't want an alcohol flavor, I would cut down the amount used. Instead of a ¼ cup just use two to three tablespoons.
I also advise you to make the pie a day in advance so the filling has enough time to completely solidify. This pie is great served cold or warm and is sure to be a success at any fall event. Whether it's Thanksgiving or just a family dinner on a weeknight , this pie is the best.
Ingredients
1 cup sugar
1 cup light corn syrup
½ cup butter (1 stick)
4 eggs lightly beaten
¼ cup bourbon
1 teaspoon vanilla extract
¼ teaspoon salt
1 cup chocolate chips
1 cup pecan pieces
1 unbaked pastry shell fitted in a 9-inch deep dish pie plate
Instructions
Preheat oven to 325 F
Combine sugar, corn syrup and butter in a small saucepan and cook over medium heat. Stir constantly until the butter is melted and the sugar is dissolved. 
Let the sugar mixture cool.
Beat eggs, bourbon, vanilla and salt in a large bowl. Gradually add sugar mixture, beating well with a wire whisk.
Disperse the chocolate chips and pecans evenly in the unbaked pie crust then pour your liquid mixture over top, letting it run through the cracks and spaces of the pecans.
Bake the pie for 50-55 min or until the crust is golden and pie filling is solid. If the crust gets too brown before filling is solid, take the pie out and wrap foil around the crust.