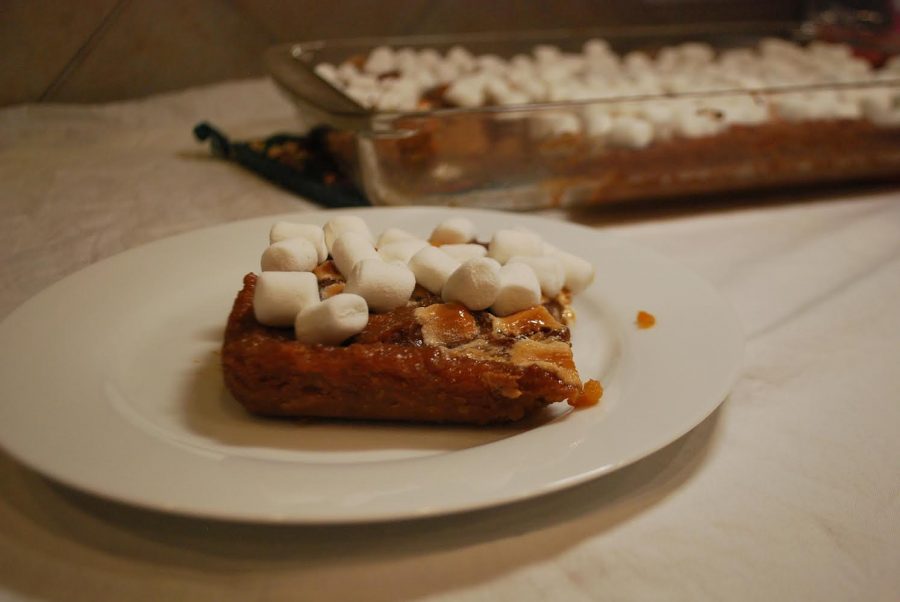 Sam's Mashed Sweet Potato Casserole
December 10, 2021
The crumple of the amber leaves is a sound familiar to me during the holiday season.
I peddle over them on my rusted bike with my friends behind me on our journey to the local grocery store. We would throw our bikes at the side of the store, and rush in right before the five minute closing announcement filled the building.
Splitting up, we all took different aisles and snatched all the ingredients up for our mashed sweet potato casserole before the staff had to escort us out.
We hurried back to my house, bags dangling on the handles, with the occasional stop if someone crashed from the uneven swerving bike.
Once we arrived home, we would all take our roles, with nobody getting to sit back and watch. Someone would set up the wooden table, pulling the coffee-stained plaid tablecloth over the table and setting five sets of mix-and-match utensils across the table.
Then in the kitchen, we would put on our old hand-me-down aprons and get to cooking. Someone would start the oven's preheat and pull out grandma's deep teal-green mixer.
We mixed the potatoes until mashed and poured all the rest of the ingredients, slowly making the base for the casserole. We coated the pan evenly with a thick layer. After putting the casserole into the oven, the room was filled with the sweet aroma of fresh caramelized sweet potato.
The taste was only something that can be described in memories.
Memories of me and my friends going down to the neighborhood coffee shop to quench the thirst for something sweet after a long day of school, or the memories of FaceTimes with my friends until midnight where we planned to study but laid our books aside to enjoy each other's company.
These memories were perfectly complemented by the taste of the fluffy, slightly melted marshmallows that reminded me of my time at camp.
The casserole still had the classic timeless taste of sweet potatoes but with a twist with the undertones of brown sugar and vanilla coming through in the bites.
Next time you need to bring something to a holiday party, bring a sweet potato casserole to celebrate the future, appreciate the present, and reminisce about time with your friends that will stick with you to the end.
Ingredients
5 cups of mashed sweet potatoes
3/4 cup of brown sugar
1/2 stick of butter
1/2 cup of milk
1 tablespoons of vanilla extract
1 teaspoon of salt
2 cups of marshmallow
Instructions
Preheat the oven to 375F.
Mash the sweet potatoes then add all ingredients together.
Place in a greased 9-by-13 inch rectangular pan.
Top with marshmallows and pop it in the oven. Cook it for 30 minutes.
Pull it out then let cool for 10 minutes.