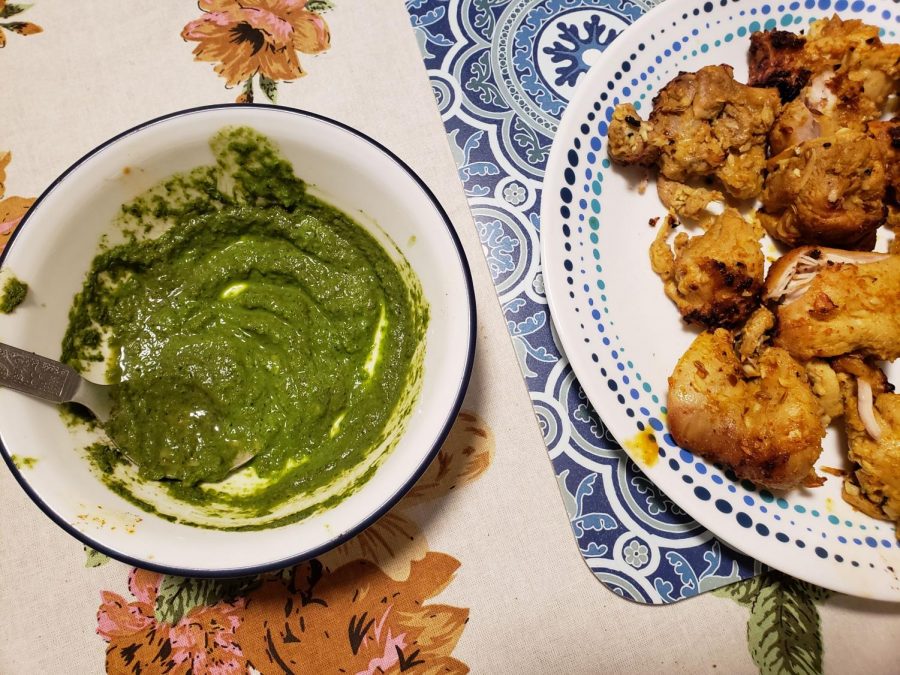 Laharia Family Achaari Chicken BBQ
December 10, 2021
My father's take on the classic Indian dish achaari chicken tikka is what first comes to mind when I consider holiday foods. These bite sized pieces of chicken, marinated in flavorful spices, grilled to perfection and paired with a cool cilantro chutney, always comfort me and remind me of home.
My dad's take on the North Indian tradition of kebabs and drinks is a bit unconventional, catered to my sibling and I's American tastes and lack of spice tolerance. This dish is always made for special occasions. For example, the last time I enjoyed this dish was when we brought it to my cousin's house to visit her 6-day-old baby for the first time.
It is important to note that this recipe serves around four people, needs time for the chicken to marinate for a minimum of four hours, and requires a packet of seasoning that can be found easiest at one of Richardson's many Indian grocery stores. 
To make this version of achaari chicken BBQ, you will need two gallon-sized Ziploc bags, some skewers, and a baking tray. You will also need chicken thighs cut into pieces. My dad prefers to go to Central Market and have the butcher cut the meat there, but you could chop it at home if you wish. This recipe also requires finely chopped garlic, which, once again, my dad prefers to buy pre-chopped at Central Market, but can be done at home. You will need lime juice, mustard seed oil and salt. You will also need an Achar Gosht seasoning mix that you can pick up at any Indian grocery store. My dad prefers a store called Indian Bazaar in Richardson. 
To make the cilantro chutney, you will need a blender, cilantro, garlic, salt, green chiles to your taste and plain yogurt. You can also add some coconut, shredded or whole.
The sharp tang of the chicken makes my eyes water with the first bite, but the cool chutney soothes my tongue. The contrast between the two flavors is entrancing.
This dish has the familiar kick of Indian spice that reminds me of the delicious smells circulating in my grandmother's kitchen. It has been years since I last visited her house, but I can still perfectly envision the comfortable way she moves through the cooking process.
Chicken Ingredients
8 chicken thighs, cut into 2-inch pieces. 
8 cloves of garlic, finely chopped
1⁄3 cup of lime juice, usually from 3-4 limes
1/3 cup of mustard seed oil 
1 teaspoon of salt. 
Achar Gosht seasoning mix 
Cilantro Chutney Ingredients
1/2 bunch of cilantro
 1 clove of garlic
1/4 teaspoon of salt
1 to 2 green chiles, to taste 
4 teaspoons of plain yogurt
1 1/2 tablespoons of coconut, shredded or whole (optional)
Instructions
Double bag the lime, mustard seed oil and Achar Gosht seasoning with two gallon-sized Ziploc bags and mix it up. 
Add the chicken. Leave to marinate in the refrigerator for a minimum of four hours, but even overnight if you wish. 
Preheat the oven to 375F. 
Add the salt into the bag and mix it in. Put room-temperature marinated chicken on the skewers, then leave them in the oven on a baking tray for around 35 minutes. 
To make the chutney, in one blender, add the cilantro, coconut, garlic, salt, chile and yogurt. Taste the mixture and add more salt or chile if you wish.
Remove the chicken from the oven after 35 minutes and serve with the cilantro chutney.