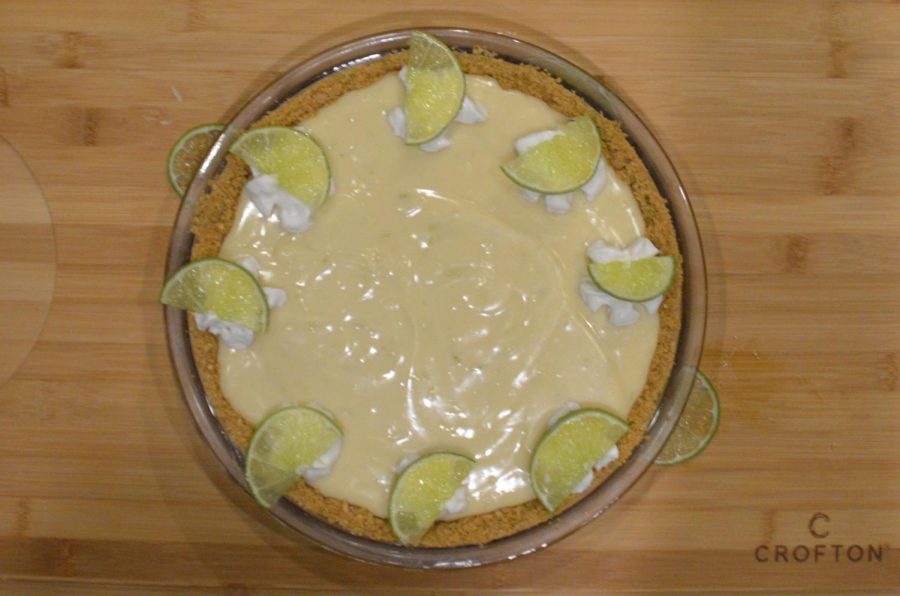 Juliana's Key Lime Pie
December 9, 2021
Key lime pie is a seasonless staple, being carried through stores at all times of the year.
It's a wonderful, tart yet sweet and creamy American essential.
I am by no means a pie connoisseur, more of an enjoyer. I usually prefer to watch in awe at the baking skills they require, but Key lime pie is shockingly easier than I expected.
This pie is a delicious delight, with only basic household ingredients needed. Recipes usually include lime juice, condensed milk, and lime zest, but sometimes people use raw egg yolks instead of the sour cream in this recipe.
The first part of a good pie is the crust. Crust is crucial to all baking that includes it. It's the most flavorful part of a bread, and it can be the make or break of a pie. This Key lime pie uses a basic recipe for a graham cracker crust, plus one lime for zesting. The crust ended up being flaky and wasn't as solid as I had hoped, but that was on me, as I didn't get it as condensed as it should be. 
Though I failed to make it as solid as possible, I knew the crust was essential to get all of the tartness that comes in a good pie. I zested about a whole lime into it, which could be overkill, but I say zest as you please, and eyeball it for yourself. 
As soon as you mix the dry ingredients for the crust, I recommend smelling it. It serves no legitimate baking purpose, but lime zest and graham crackers smell very good together. 
Next comes the filling. I found that starting with the thicker liquids first made it easier to mix. After putting the filling in the crust, it's time for the pie to go in the oven.
I was surprised by the amount of people in recipe comment sections talking about how it's criminal to heat Key lime pie in the oven. It went against some Floridian pie code apparently, but I was more keen on following my recipe than living by a pie code. 
After letting your pan cool down, let the pie sit for at least 3 hours in the refrigerator, and then feel free to dig in.
I adored this pie. It was creamy, with a crumbly yet delicious crust. It tasted very tart, which I love, but some others don't. Again, zest at your own risk. I don't claim to be a Key lime pie connoisseur, but this has been some of the best pie I've ever had. If I had to rate it, it would be a solid 4.5/5, with 0.5 subtracted for my own crust mistake.
With a recipe that's so easy to love and made with basic household ingredients, Key lime pie will be a returning recipe in my family.
Crust Ingredients
1 lime 
1/4 cup unsalted butter
250g of graham crackers
Key Lime Pie Filling Ingredients
1/2 cup sour cream
3/4 cup lime juice
2 cups condensed milk + a little more
1 lime
Instructions
Preheat the oven to 350F.
To make the crust, grind up your graham crackers using a food processor.
Stir in however much lime zest you think is right. I used a whole lime, because I prefer a more tart pie. 
Melt your butter. Using a spatula, stir butter into the dry ingredients, making a crust that will be relatively solid if you press down hard enough.
Take your pie crust and use a flat surface to flatten down your crust at the bottom and around the sides. I used the bottom of a measuring cup. This crust does not need to be preheated.
To form the filling, mix your sour cream, lime juice and condensed milk together in a separate bowl.
Zest in however much lime zest you would like.
Pour into the crust, and put into the oven for 5 minutes. 
Refrigerate for 3 hours before serving. It can also be left overnight, which I did because I knew I wouldn't be eating Key lime pie at one in the morning.