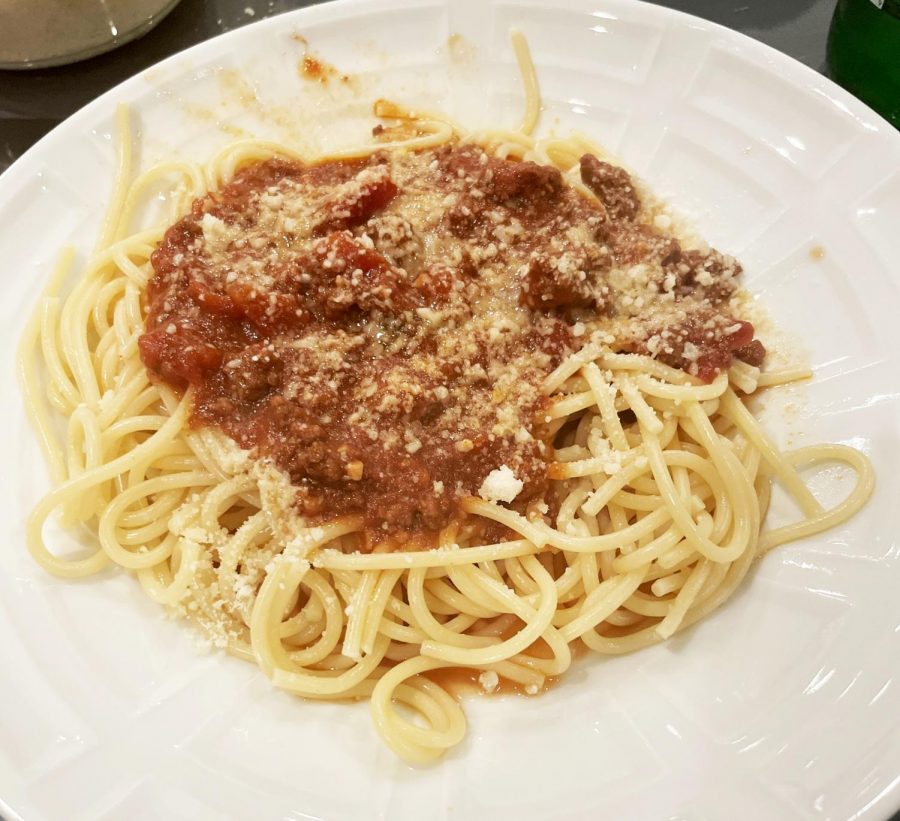 Lazzaro Family Red Sauce Pasta
December 9, 2021
Inherited by each generation of the Lazzaro family, red sauce pasta with spaghetti noodles is an irreplaceable holiday tradition. 
My great grandmother's parents came over from Italy, so they are the main origin of this recipe. Every generation of the Lazzaro family is taught this recipe so it will stay in the family for years to come. 
When my family makes this recipe we usually do it together while listening to music, which makes the time go by faster. The process of seeing everything mix together thoughtfully is pretty outstanding. 
When the pasta is first served, there are noodles with a little sauce on it, but there is a separate bowl just for the meat sauce. 
Once you take the first bite of the pasta you can taste all the flavors from the oregano to tomatoes. If you have a low tolerance for heat then I would put parmesan and salt in it so the spicier flavors are balanced out. 
My personal favorite part of the dish is dipping bread into the sauce. You can either dip garlic or regular sourdough bread. It is very common in my family to complement this dish with different types of breads.
I also love to pick out the meat because the flavor is strong and rich from having been infused with the sauce for so long. However, the flavor from the meat on its own is fantastic. 
The sauce can be used separately for different things besides pasta. In past years I have used the sauce in sandwiches or tacos.
This pasta is very much a family meal due to how much you get from the ingredients, so be prepared for leftovers. My family loves to give the leftovers to extended family and friends so they can enjoy it at home and we don't have to worry about having an excess amount of pasta in the fridge. 
Making the dish does take a good few hours, but all in all what you get out of it is extraordinary. When making the dish make sure to use a big skillet for both the pasta and sauce because you do not want your pasta to be drowned in the sauce. 
While the process of making the pasta is a lot of fun, the clean up is long and difficult because of the big mess that results from making the recipe. That being said, it is well worth a delicious and hearty meal. 
Ingredients
4 tablespoons of olive oil
1 lb lean ground beef
.5 lb bison
.4 lb hot Italian sauce
6 garlic cloves minced
1 750ml bottle of chianti 
6oz of tomato paste
28 ounces of tomato sauce
28 ounces of diced tomatoes
5 stems of fresh basil
1 teaspoon oregano 
2 teaspoons of agave nectar
1 teaspoon of salt
1 teaspoon of pepper
One onion cut in half
Instructions
Combine all the meats with a pinch of salt and pepper
In large skillet heat two tablespoons of oil and saute two minced cloves of garlic
Add meat mixture and brown
Strain meat mixture and set aside
In large dutch oven heat remaining olive oil and saute remaining garlic
Add tomato paste and cook on moderately high heat until some sticks to bottom of the dutch oven
Add 6 oz of wine (use tomato paste can to measure)
Add ¾ of the bottle of win and all of the remaining ingredients
Bring to a boil
Lower heat and simmer 3-4 hours adding the remaining wine after the first hour
Sauce is finished when thick