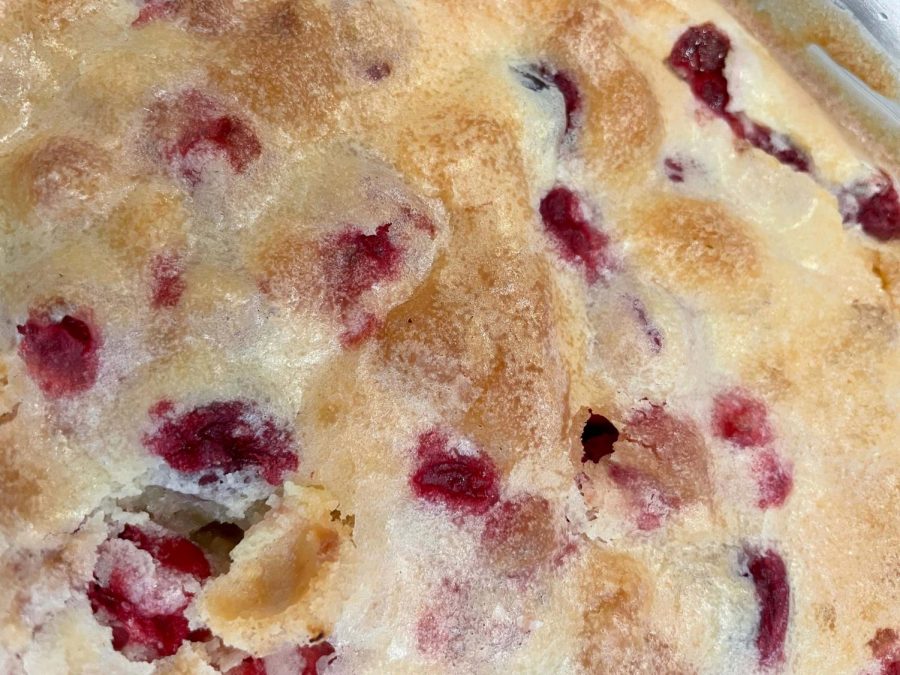 Nugent Family Cranberry Bread
Holiday dessert continues to be annual tradition
December 9, 2021
Making my family's impeccable cranberry bread continues to be a holiday activity we participate in every year. 
The recipe was passed down from my grandmother and is handwritten by her on a piece of notebook paper. The recipe is close to our hearts and our family is known to make this holiday treat often when it starts to become cold outside.
As a kid, I remember making cranberry bread sometimes twice a week. My mom would call me downstairs and we would bake the bread together. Since I was so young, my mom would get all the ingredients together and I would put my princess apron on and stir the batter with a matching princess spoon. We would then wait for the delicious bread to become golden in the oven and watch our stomachs grow hungrier, as we became more excited for the dessert to be ready to eat. The first five minutes the bread was out of the oven my older brothers and I would finish the entire thing. The next day, my mom and I would usually make another batch of the much loved cranberry bread for my family to enjoy and share with their friends. The taste of the squares reminds me of Christmas, Thanksgiving and some of my favorite childhood memories. Ten years later, we still make the bread about once every two weeks and eat it as a dessert, snack and for breakfast. 
When cut, the bread is moist and filled with red cranberries. The cranberries turn part of the golden treat into a red, delicious looking treat. The almond extract incorporated into the recipe is a key component to the scrumptious taste of the bread. It allows for it to have a certain type of flavor that mixes well with the other ingredients. The top of the bread is crispy and the inside is soft and gooey. This allows for a mix of two different textures to create a sensational and flavorful bite. 
When you bite into the cranberries, they pop in your mouth and create excitement in every bite you take. I think making food that incorporates different aspects into it can make eating more exciting. The contrasting textures and flavors allows for each bite to be delightful.
Ingredients
½ cup of sugar
2 eggs
1 ½ sticks of unsalted butter melted and cooled slightly
1 tsp almond extract
1 ½ cups of flour
2 cups fresh or frozen cranberries
Instructions
Preheat oven to 350 degrees
Butter 9 inch pan
Beat sugar and eggs
Beat in butter and extract
Add flour and stir by hand til blended
Stir in cranberries
Bake for 1 hour