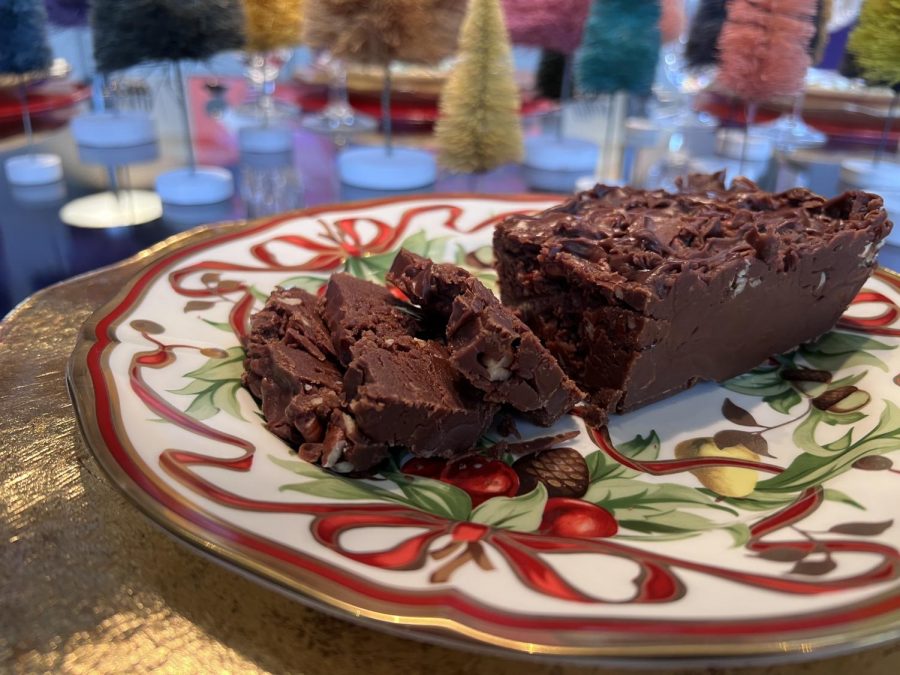 Photo by Will Gaffey
Dating back four generations, this peculiar yet tasty coffee pecan fudge recipe is a tradition in the Gaffey family and is perfect for the holiday season.
My great great grandmother was the first person to bake this recipe, though it has evolved much throughout history.
With the passing of my great grandmother, the recipe was unfortunately lost as it hadn't been written down anywhere. Because of this, Sue White, my grandmother, and Shelley White, my mother, both worked together to reinvent the recipe, improving it with their own unique twist in the process.
The secret ingredient they added to this delicious fudge is instant coffee which gives the fudge it's signature caffeinated kick.
Coffee isn't for everyone, though, and that's perfectly fine as our recipe is easy to modify to your liking. You can easily scale the amount of instant coffee to your preference in order to lower the intensity of the coffee flavor or you can just get rid of it to begin with. In the case of a nut allergy, removing the pecans is another option which won't affect the taste much at all.
After all, one of fudge's best qualities is this unusual simplicity. Simply take a bunch of sweets and some dairy products and ta-da, you have yourself some tasty fudge.
All of the ingredients should be available at the majority of grocery stores in the area, with the possible exception of instant coffee which can be purchased at your local Starbucks.
The recipe only takes about 20 minutes to finish and an extra 10 minutes to cool, so if you are quick you can easily make a warm batch right before company arrives.
As shown in the image, this dish's presentability is up to par, though the pecans make it slightly tough to slice into even pieces. I recommend keeping it whole for as long as possible if you plan on putting it on display.
Taste-wise, the dessert is impeccable. The pecans complement the extremely bitter taste of the coffee in a way that no other desserts could ever dream of matching. The chocolate itself hits the perfect ratio, cutting back on its sweetness while simultaneously giving the dish it's signature cocoa flavor.
Maybe it's just me being sentimental, but every time I take a bite out of this fudge I can taste its rich history swelling in my mouth.
Ingredients
2 cups sugar 
½ cup butter, cut into pieces
2 tablespoons instant coffee granules (optional)
⅛  teaspon salt
1 (5 ounce) can evaporated milk 
12 large marshmallows 
1 cup semisweet chocolate morsels 
1 cup chopped pecans, toasted (optional) 
1 teaspoon vanilla extract 
Instructions
Combine the first 6 ingredients in a 4-quart heavy saucepan. Cook over medium heat, stirring constantly, 10 to 15 minutes until sugar dissolves and marshmallows melt. Bring to a boil. Cook, without stirring, until a candy thermometer registers 234 (soft ball stage). Remove from heat.
Stir in chocolate morsels until melted. Stir in pecans and vanilla. Spread fudge immediately into 2 aluminum foil-lined, buttered 5 3 ½ mini loaf pans. Cool completely. Remove fudge from pans. Slice fudge into ½" slabs. Yield 1 ⅓ pounds.
Note: Lining the loaf pans with aluminum foil and buttering them makes it easy to remove uncut fudge from the pans in one piece to slice it.