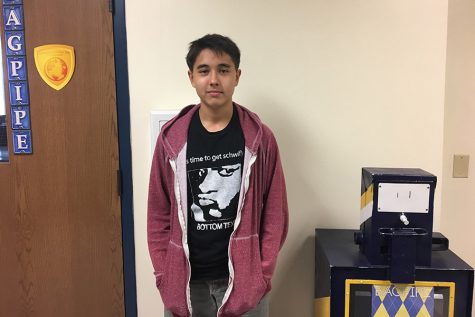 Current Grade Level:

9
What is your position on the Bagpipe:

Staffer
What is your go-to snack:

Fruit
What is your favorite tv show to binge watch:

Rick and Morty
What are you most excited to get out of Bagpipe this year:

I'm excited about improving my news writing abilities.
In what are you involved at HP:

Tennis
What is your dream job:

Graphic Designer
How would your friends describe you:

Friendly and Calm
What is your favorite song or style of music:

Alternative Rock
What is a fun fact about yourself that not everyone knows:

I have run a meme account for three years.
Where is the coolest place you have visited:

ComicCon
What is your ideal pet:

Cats
What is your favorite class this year:

Algebra 2
Where do you want to go to college:

MIT
What is your favorite news source:

Amazon Alexa Flash Briefing
What is the best piece of advice you have received so far:

Don't go to sleep too late.
If you could attend any major event, which would you choose:

Nobel Prize Award Ceremony
Tyee Arey, Staffer
Oct 25, 2018

Student researches own colorblindness

(Story)

Sep 27, 2018

"Avengers: Infinity War" review

(Story)

Sep 24, 2018

Trip to…the moon?

(Story)

May 21, 2018

The CDC's steps to protect the food supply

(Story)

Apr 19, 2018

HPMS eSports league

(Story)

Apr 18, 2018

Robotic reptiles?

(Story)

Mar 27, 2018
Feb 20, 2018

The battle against antibiotic resistance

(Story)

Feb 12, 2018

Chinese scientists propose a laser to destroy orbiting junk

(Story)

Feb 07, 2018

The Trolley Problem

(Story)

Jan 22, 2018

Automated Fast Food

(Story)

Dec 14, 2017

Putin announces that he will be running for another term

(Story)

Nov 21, 2017

UPS Partners Drones Delivers Crucial Medicine

(Story)

Nov 21, 2017

New star cheats death multiple times

(Story)

Nov 07, 2017

Coral Reefs are in danger

(Story)

Oct 31, 2017

The De-extinction Debate

(Story)

Oct 24, 2017

Chinese Tiangong 1 and Space Stations' crash to Earth

(Story)

Oct 09, 2017

Tennis Scots Start the Season Strong

(Story)

Oct 03, 2017

Highland Park High School enters its first novice debate tournament

(Story)