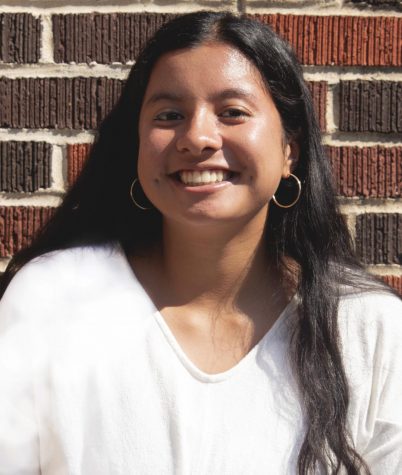 How many years have you been in newspaper?
This is my fourth year on the Bagpipe staff.
What are you involved with at the school?
Band, Youth and Government Club, Out of this Bubble Club, etc.
How would your friends describe you?
Determined, compassionate and grounded
What is your favorite ice cream flavor?
Mint chocolate chip or cookies and cream
Sophie Jejurikar, Editor-in-Chief
Oct 28, 2019

Construction Forces Three Separate Pep Rallies Upon Arrival Of Annual Blacklight Event

(Story)

Sep 07, 2019

New Clubs Spend Week Recruiting Members

(Story/Media)

Mar 25, 2019

Night of percussion

(Story)

Feb 01, 2019

Eight students qualify for All-State Band

(Story)

Sep 24, 2018

Student brand agents

(Story)

Sep 19, 2018

Flight carrying sick passengers lands at JFK

(Story)

May 23, 2018

The royal wedding

(Story)

May 20, 2018

Catholic-inspired Met Gala

(Story)

Apr 23, 2018

iPhones for a cause

(Story)

Apr 18, 2018

Springing into the new season

(Story)

Apr 16, 2018

Russian plane crash kills all passengers aboard

(Story)

Apr 09, 2018

Midnight Sun movie review

(Story)

Apr 04, 2018

Tomb Raider movie review

(Story)

Mar 28, 2018

"Three Billboards Outside Ebbing, Missouri" Review

(Story)

Feb 20, 2018
Dec 14, 2017

Scots football moves onto state

(Story)

Dec 12, 2017
Dec 05, 2017

Wonder movie review

(Story)

Nov 22, 2017

NFL star plays through personal tragedy

(Story)

Nov 10, 2017

Trump's policy barring transgender troops gets denied

(Story)

Oct 24, 2017

The Road to State

(Story)

Oct 17, 2017

Woman goes partially blind from phone

(Story)

Oct 09, 2017

US scientists awarded Nobel Prize

(Story)

Oct 03, 2017

Scots win first football district game

(Story)

Sep 22, 2017
Jan 23, 2017

The road to the Super Bowl

(Story)

Jan 18, 2017

Exciting news for 'U2-bers'

(Story)