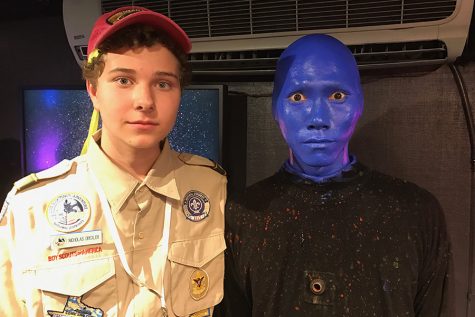 Current Grade Level:

9
What is your position on the Bagpipe:

Staffer
What is your go-to snack:

Chips and Queso
What is your favorite tv show to binge watch:

The Office
What are you most excited to get out of Bagpipe this year:

I am most excited to be able to have a copy of the Bagpipe in my hands and be able to say I helped make it.
In what are you involved at HP:

Basketball and AcDec
What is your favorite song or style of music:

I like a little bit of all music.
What is a fun fact about yourself that not everyone knows:

I did taekwondo for about seven years.
Where is the coolest place you have visited:

London, England
What is one skill at which you were better:

Writing
What is your ideal pet:

A Golden Retriever
What is your favorite class this year:

World Geography
Where do you want to go to college:

MIT
What is the best piece of advice you have received so far:

Be the best you are.
If you could attend any major event, which would you choose:

The Super Bowl
Nicholas Drexler, Staffer
Oct 02, 2018

EU's war on memes

(Story)

May 25, 2018

Supreme Court legalized betting on sports

(Story)

May 16, 2018

Hawaii's big island volcano erupted

(Story)

Apr 23, 2018

Syria fired 40 defensive missiles after allied air strikes destroyed Assad chemical site

(Story)

Mar 26, 2018

March Madness Final Four

(Story)

Feb 09, 2018

Miami police handcuffed a 7 year old boy

(Story)

Jan 23, 2018

False North Korea missile launch

(Story)

Dec 18, 2017

The book ban on "The Hate U Give"

(Story)

Dec 12, 2017

McDonalds is bringing back the dollar menu

(Story)

Dec 05, 2017

Chipotle is changing management

(Story)

Nov 07, 2017
Oct 31, 2017

Stranger Things Season Two

(Story)

Oct 24, 2017

Madagascar plague

(Story)

Oct 19, 2017

What is your snack costing you?

(Story)

Oct 17, 2017

What went wrong with the Las Vegas shooter

(Story)

Oct 09, 2017

Mansfield marching competition

(Story)

Oct 03, 2017

Is the iPhone 8 worth it?

(Story)