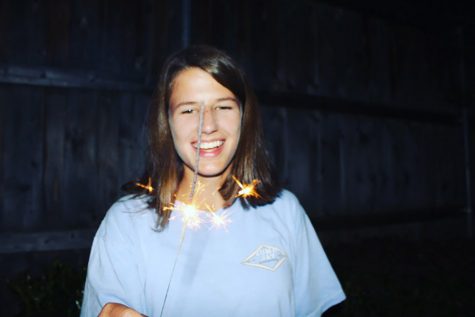 Current Grade Level:

10
What is your position on the Bagpipe:

Section Editor
What is your go-to snack:

Pirate Booty
What is your favorite tv show to binge watch:

Criminal Minds
In what are you involved at HP:

Soccer
What is your dream job:

Scientist
How would your friends describe you:

Funny, smart and kind
What is your favorite song or style of music:

Anything Ed Sheeran
What is a fun fact about yourself that not everyone knows:

I am a vegetarian.
Where is the coolest place you have visited:

The US Virgin Islands
What is your ideal pet:

I would like to own every type of dog simultaneously.
What is your favorite class this year:

Bagpipe
Where do you want to go to college:

UCLA
What is your favorite news source:

WFAA
What is the best piece of advice you have received so far:

"Listen to instructions..."
If you could attend any major event, which would you choose:

Another Ed Sheeran concert
Kate White, Section Editor
May 25, 2018

Beating summer boredom

(Story)

May 15, 2018
May 15, 2018
Apr 23, 2018

Night or morning showers—which one is superior?

(Story)

Apr 19, 2018

The end of a great season

(Story)

Apr 16, 2018

13 Reasons Why Season Two

(Story)

Apr 09, 2018

A successful round of Friendlies

(Story)

Apr 05, 2018

An end to the Madness

(Story)

Mar 26, 2018

March Madness upsets

(Story)

Feb 13, 2018

Projects or tests

(Story)

Jan 25, 2018

Hawaii missile false alarm

(Story)

Dec 14, 2017

New York City Explosion

(Story)

Dec 12, 2017
Dec 05, 2017

Untitled Duffer brothers project

(Story)

Nov 22, 2017
Nov 10, 2017

A Win for Houston

(Story)

Oct 30, 2017

Sheeran takes a tumble

(Story)

Oct 24, 2017

Spooky October Movies

(Story)

Oct 16, 2017
Oct 09, 2017

Binge watching gets spooky

(Story)

Oct 02, 2017

May the sequels be with you

(Story)

Sep 22, 2017

Cowboys RB vs. NFL

(Story)

Feb 07, 2017

'Closer' to the top

(Story)

Oct 18, 2016

Letting Les Geaux: Was firing head coach Les Miles a mistake?

(Story)