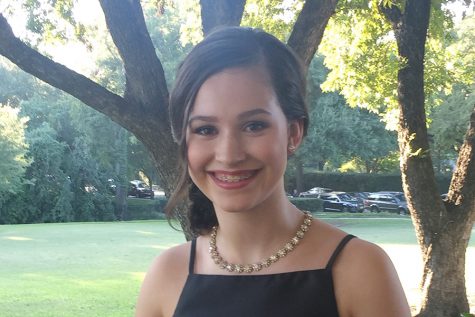 Current Grade Level:
10
What is your position on the Bagpipe:
Staffer
What is your go-to snack:
Goldfish
What is your favorite tv show to binge watch:
Grey's Anatomy
What are you most excited to get out of Bagpipe this year:
I'm most excited about getting to know more people and being part of something fun with friends.
In what are you involved at HP:
Art, Chinese and several HP clubs
What is your dream job:
Photographer
How would your friends describe you:
Caring, fun and kind
What is your favorite song or style of music:
Pop
What is a fun fact about yourself that not everyone knows:
I lived in China for six years and I have three younger sisters.
Where is the coolest place you have visited:
China -- I got to hold pandas
What is your ideal pet:
Dog
What is your favorite class this year:
Art
Where do you want to go to college:
TCU or SMU
What is your favorite news source:
CNN
What is the best piece of advice you have received so far:
Try your best in everything you do, but know that it doesn't have to be perfection.
If you could attend any major event, which would you choose:
Taylor Swift concert
Juliet Richardson, Staffer
Oct 01, 2018

Typhoon Jebi hits Japan

(Story)

Sep 30, 2018

National Chinese Honor Society

(Story)

Sep 25, 2018

Hurricane Florence

(Story)

May 23, 2018

Plane crash in Cuba kills 110 passengers

(Story)

May 08, 2018

Migrants seeking asylum in the U.S.

(Story)

Apr 23, 2018
Apr 17, 2018

The Future of Self-Driving Cars

(Story)

Apr 09, 2018
Apr 05, 2018

64 Killed in Russia mall fire

(Story)

Feb 08, 2018

Attack in Afghanistan kills more than 100

(Story)

Dec 14, 2017

New York City Explosion

(Story)

Dec 12, 2017

Trump's Travel Ban

(Story)

Dec 05, 2017

North Korean Missiles

(Story)

Nov 21, 2017

Bill Gates Alzheimer's

(Story)

Nov 07, 2017

Remembering the Victims of Hurricane Sandy

(Story)

Oct 31, 2017

Two Typhoons in Two Weeks

(Story)

Oct 17, 2017

Catalonia Conflict

(Story)

Oct 02, 2017

Hurricane Maria destroys Puerto Rico

(Story)