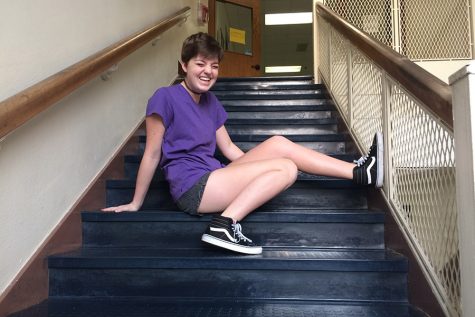 Current Grade Level:

10
What is your position on the Bagpipe:

Staffer
What is your go-to snack:

Cheetos Puffs
What is your favorite tv show to binge watch:

Chopped or Cooks vs. Cons
What are you most excited to get out of Bagpipe this year:

I'm excited to learn to write as a journalist.
In what are you involved at HP:

AcDec
What is your dream job:

Editor
How would your friends describe you:

The Dad of the group
What is your favorite song or style of music:

Indie-pop, Alternative and a few musicals
What is a fun fact about yourself that not everyone knows:

I keep all my old writing from when I was 11-12 because I like to laugh at it and cringe.
Where is the coolest place you have visited:

Cabo or Giant's Causeway in Northern Ireland
What is your ideal pet:

A Yorkie (her name is Ruby)
What is your favorite class this year:

Lunch
Where do you want to go to college:

University of Washington
What is your favorite news source:

NY Times
What is the best piece of advice you have received so far:

It is okay to make mistakes as long as you learn from them and you strive to be a better person afterwards.
If you could attend any major event, which would you choose:

A Dodie Clark concert
Jules Heatley, Staffer
May 22, 2018

Rita Ora's new bop criticized as a flop

(Story)

May 15, 2018

Four year old superhero

(Story)

May 08, 2018

Flat-Earthers' Pac-Man theory

(Story)

Apr 22, 2018

Ketamine as depression treatment

(Story)

Apr 18, 2018

STAAR/EOC Testing: Do Students Care?

(Story)

Apr 16, 2018

Oklahoma teacher walkout ends after nine days

(Story)

Apr 09, 2018

Laura Ingraham controversy

(Story)

Apr 05, 2018

Orange snow blankets Eastern Europe

(Story)

Mar 26, 2018

Fifth Harmony hits a sharp note

(Story)

Feb 09, 2018

Praying about Kesha's Grammy performance

(Story)

Jan 23, 2018

Dolores O'Riordan's death

(Story)

Dec 18, 2017

The Revival of Vine

(Story)

Dec 14, 2017

Student stress grows as exams approach

(Story)

Dec 05, 2017

Boo! Snapchat surprises users with a new update

(Story)

Nov 21, 2017

Writing up a storm for NaNoWriMo

(Story)

Oct 24, 2017

Easy Halloween costumes

(Story)

Oct 19, 2017

Driving vs. biking

(Story)