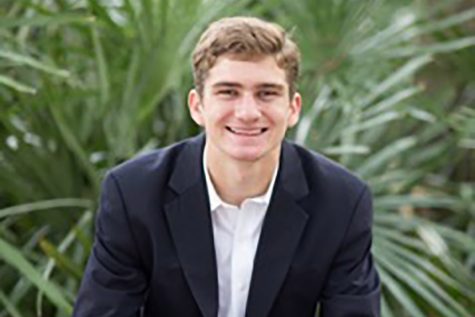 Current Grade Level:

12
What is your position on the Bagpipe:

Staffer
What is your go-to snack:

Fruit Snacks
What is your favorite tv show to binge watch:

Supernatural
What are you most excited to get out of Bagpipe this year:

I am most excited about writing new topics for this year.
In what are you involved at HP:

HP Ambassadors
What is your dream job:

Sports Scientist
How would your friends describe you:

Cool and funny
What is your favorite song or style of music:

I listen to all kinds of music.
What is a fun fact about yourself that not everyone knows:

I once went to Tony Parker's house (San Antonio Spur).
Where is the coolest place you have visited:

Paris, France
What is your ideal pet:

Golden Retriever
What is your favorite class this year:

AP European History
Where do you want to go to college:

Colgate University
What is your favorite news source:

Bleacher Report
What is the best piece of advice you have received so far:

Always turn the oven off before you leave the house.
If you could attend any major event, which would you choose:

The World Cup
Edward Bass, Staffer
May 25, 2018
Apr 23, 2018

Shot out in the shootout

(Story)

Feb 06, 2018

How a Backup won the Super Bowl

(Story)

Jan 23, 2018

What's up with NBA refs?

(Story)

Dec 14, 2017

Preview of the Champions League

(Story)

Dec 12, 2017
Dec 05, 2017

The End of Eli Manning?

(Story)

Nov 21, 2017

How the Zeke Suspension will affect the Cowboys

(Story)

Oct 31, 2017

What's next for U.S. Soccer?

(Story)

Oct 09, 2017

The Catalan crisis surrounding F.C. Barcelona

(Story)

Oct 03, 2017

Troubling times for the men in red and blue

(Story)

Apr 03, 2017
Mar 31, 2017

The Las Vegas Raiders

(Story)

Mar 27, 2017

Final Four Preview

(Story)

Mar 09, 2017

Kawhi Leonard = MVP

(Story)

Mar 01, 2017

What's Next for AP?

(Story)

Feb 15, 2017

The Champions League is Back

(Story)

Feb 09, 2017

Can't Deflate Greatness

(Story)

Feb 01, 2017
Jan 30, 2017

Too little too late?

(Story)

Jan 27, 2017

From a Standout Lacrosse to Standout Football Player

(Story)

Jan 25, 2017

A Tribute to Yordano Ventura

(Story)

Jan 18, 2017

The Rise of the Chinese Super League

(Story)

Jan 11, 2017

3 strikes, he's back?

(Story)

Nov 21, 2016

The NFL, the No Fun League

(Story)

Nov 16, 2015
Nov 02, 2016

Is Cleveland on the Rise in the World of Sports?

(Story)

Oct 18, 2016

Tebow: how many outs does he get?

(Story)

Sep 30, 2016

Gone, but never forgotten

(Story)