Review: "Enola Holmes" Has Star Power And Stunning Design
Netflix's Movie Is A Key Pick To Watch This Holiday Season
***WARNING: This review contains spoilers.
Netflix's adventure-mystery movie "Enola Holmes," released in September, follows the little sister of Sherlock Holmes on a mission to find her mother. 
The famous teen actress Millie Bobby Brown stars as the main character, Enola Holmes, alongside fellow talents like Henry Cavill as Sherlock Holmes, Helena Bonham Carter as Eudoria Holmes and Louis Partridge as Lord Tewksbury.
"Enola Holmes" takes a stand on feminism. This movie is predominantly about gender equality. Enola and her mother prove to the people of this time that women can do anything men can do. 
The story is centered around Enola Holmes, a young teen girl whose family has practically split apart. Her father died at a young age leaving Enola and her mother, Eudoria, alone, while her brothers moved out of the house. Enola's middle brother is the infamous Sherlock Holmes. 
Eudoria is not like other mothers of this time. She is an educated woman, who is learned in core academic subjects, painting and combat. Her main goal was to teach Enola the importance of education, which many women lacked during this time compared to men. 
At the very beginning of the movie, I felt as if there was a carefree and playful kind of feeling bringing me into an adventurous story. The music in the intro was fun and lured me in. 
While the vibe and music were light and airy, the intro was extremely fast-paced and hard to follow, especially if I got distracted. This was unfortunate because this part had many key details. The director, Harry Bradbeer, could have spent more time on viewer comprehension for this particular part. 
The beginning of the movie tells the time and location, but the set designers, costume makers and directors did a delightful job conveying the late 19th century setting in England. I enjoyed all the sets and costumes. They were very detailed and did not go unnoticed. I especially enjoyed the amount of detail on the family's house.
Next, the audience finds out Enola's mother has a secret side to her when she mysteriously disappears and Enola's brothers get a call to return home. Once they reunite, Enola's oldest brother wants to send her away to finish school so she can become a young lady. 
Enola knew this was not the life for her, and decided to use the strange word game gift Eudoria left behind for her to run away from home and track her mother down. 
It took me a while to figure out what this gift was. It was extremely confusing, especially for first-time viewers. The gift was a little bag of word chips, similar to those of the game Scrabble. Enola's mother left word clues that Enola would have to use in order to find her. 
Since Enola is on a journey to find her mother, she will do whatever it takes to find her. She goes on many intense adventures and along the way, makes new friends and some enemies too. She makes many new identities alongside a boy Lord Tewksbury, a viscount who has also escaped from home. While Eudoria keeps leading her where to go, Sherlock is already on the case of tracking Enola down. 
I really enjoyed all the adventures this story took on. If I ever got distracted, they could pull me back into the loop of the story. The screenplay writer for the movie, Jack Thorne, did an excellent job of keeping the audience consistently entertained while retaining the ability to still convey a strong message. 
After many twists and turns, Enola is reunited with her mother. The audience finds out Eudoria left Enola not because she did not love her, but simply because Eudoria didn't want her difficult secret life becoming Enola's. The movie implied that Enola's mother was in a sort of a secret society or occupation to make the world better for women. Enola is able to show her mother how successful she was and prove her mother wrong.
Though Millie Bobby Brown is one of my favorite actresses and one of the main reasons I wanted to watch this movie, I do not think this was her greatest screen role. She did a great job acting, but the screenplay writers made her character too babyish for a sixteen-year-old, especially at the beginning of the movie. Towards the end of the movie, however, her character grows a bit more mature.
Overall, "Enola Holmes" was alright. It was not my favorite movie, but it was not close to being my least favorite. I love all the actors and actresses in it, but this was not their greatest breakthrough. However, the movie has amazing sets and designs that are worth seeing, and it brings its viewers an incredible story that stands on its own two feet as an interesting retelling of a classic story.
About the Contributor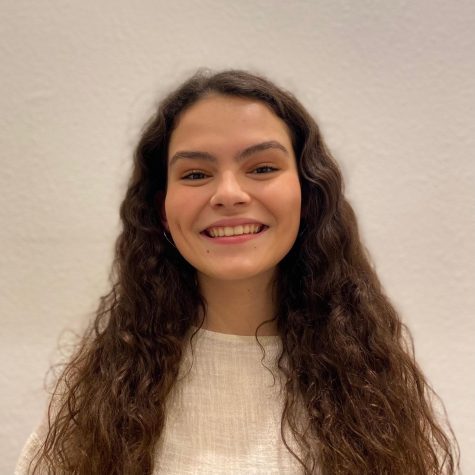 Catherine Stautz, Reporter
What music will you find her listening to on the weekends?
Her favorite music genre is pop country. 
What does she do when she's not working on Bagpipe?
Her hobbies include theatre, arts and crafts, designing and sewing.
What is her dream job?
Her dream job is to become a doctor, an interior designer or a news broadcaster.