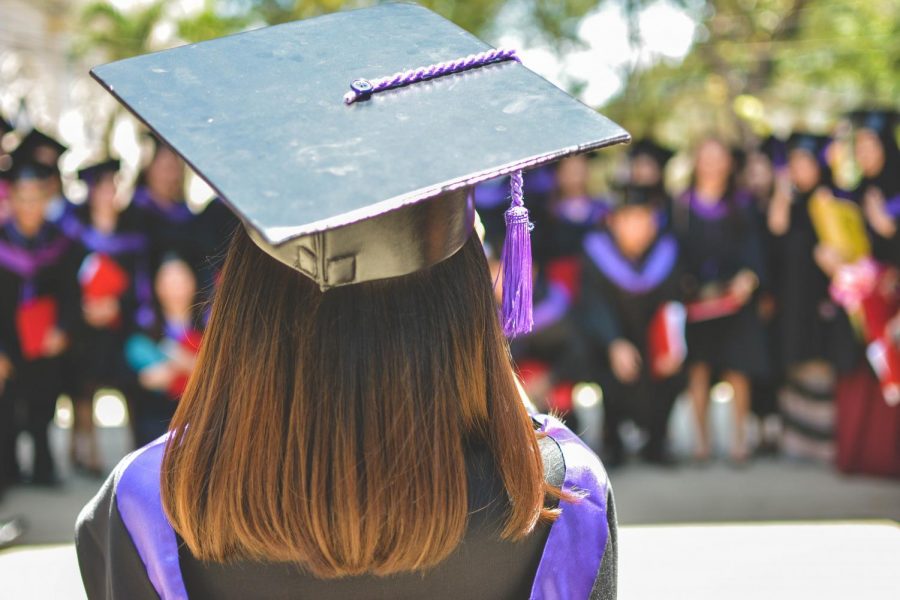 Photo by MD Duran on Unsplash
Dear Readers,
When I sat down to write this letter, I was thinking a lot about Harry Potter. You see, before social distancing began, the last thing I did with someone outside of my family was watch the fifth Harry Potter movie. We planned to watch the entire series as something fun we could do while trying to limit contact with other people. Since I was a little girl, I have always loved the Harry Potter franchise, not only for the illusion of magic and adventure but for the bravery that runs through the veins of its characters.
As a senior, I lost as much as anyone else. Sports, school, getting to see friends, spending time with my boyfriend, the certainty that I'm going to get to move into my dorm in August… all gone. But bravery is something I think we all need very much right now. Bravery to face a threat, the likes of which many of us have not seen or imagined. Bravery to face the fact that we had things taken away from us that we so desperately wanted. Bravery to show compassion in these difficult times.
The first thing I lost was my last high school rowing season. I have rowed for years, and I can't tell you how many times I complained about being tired or how much I didn't want to go to practice. Now with it gone, I lost a huge part of my life, and it hurt despite the fact I knew it was something I could get through. "Be brave," I told myself. "You still have school."
I found out about the cancelation of my rowing season when I was shopping for prom dresses. Prom was the next thing to go, along with other festivities surrounding my accomplishment of making it through thirteen years of education. Prom, senior dances, school, getting to go to events and perhaps graduation itself, were all thrown into the wastebasket. "Be brave," I told myself. "You still have your friends."
But, although we're allowed to see each other from six feet away, that changes things too. Some seem to think friendships will remain the same so far apart. Some defy the rules and take for granted that others aren't going six feet close to their loved ones. They have bigger problems to worry about. Something that hurts me the most is not getting to see my boyfriend, which I know, sounds like the silly whim of a teenage girl, but it takes a greater toll on me than most other things I talked about.
The negativity seemed to constantly increase, until one night when it all came out in tears and self-wallowing. "Be brave though," my mother told me. "Be brave enough to show compassion, you are lucky and blessed."
And she is right. Others have it worse. I don't mean to make anyone's feelings less important than others, and I don't mean to put myself on a high horse. I still feel like I am missing pieces of my life and am struggling to get over myself. I only want to help you skip a step and find happiness sooner. I urge you to look at what you still have, instead of pitying yourself for what you have lost. Think of what could have happened to you.
My older sister is, or was, a freshman in college. She lost half a year of what was supposed to be one of the best four years of life. She moved away from all of her best friends and lost not only part of a sports season, but the chance to be on a national championship-winning rowing team.
My younger sister, a social butterfly, lost the chance to hang out with her friends during her sophomore year, which, for me at least, was the last year of high school where I wasn't overwhelmed with grades and doing everything I could to plan for the future.
My younger brother lost a quarter of his freshman year of high school, which is the year that kids start to grow into the adults they might one day become.
My father, an airline pilot, went to work to witness the destruction of an industry he devoted most of his life to. Not to mention he also stopped traveling, which is something he loves very much, and is now confined to the ground.
And my mother has taken it upon herself to keep the rest of us sane, which is no small task.
I am lucky enough to have my family, something I cannot imagine living without in this whole messed up situation. It's the thing I am the most thankful for right now, and what I wish I could share with everyone doing this alone.
And for me, that is enough. I choose to be brave, to have compassion, to look at what I do have and to find happiness. If you choose to deal with this by wallowing and decrying what you have lost, then do that. But feel free to come join the rest of us when the tears run out, which trust me, they will.
Good luck, stay safe, and please choose to stay positive.
Sincerely,
Highland Park Senior Ava Craycroft