Review: 2020 Grammys
music awards show spotlights recent tragedy
Once again the Grammys, the biggest awards ceremony for musicians, have come to pass, though perhaps with more drama than in the past few years.
On Sunday, Jan. 26 at the Staples Center the 62nd Annual Grammy Awards took place, hosted by 15 time Grammy recipient Alicia Keys. The event began with a performance by Lizzo as tribute to Kobe Bryant, whose death had been announced only hours earlier. While the tribute was clearly quite emotional, the choice of song, "Cuz I Love You," did not seem great for the purpose. The song was very energetic and upbeat, which mixed poorly with the recent tragedy. 
Accompanying Lizzo were several backup musicians on brass and string instruments. After the emotional tribute to Bryant, Lizzo performed her song "Truth Hurts", during which she played a flute solo after the instrument was lowered in from above on wires. After "Truth Hurts" ended, Alicia Keys and Boyz II Men gave their own tribute to Bryant, which seemed to have a more appropriate tone.
Blake Shelton and Gwen Stefani sang a duet of the song "Nobody But You," which the two collaborated on for Shelton's recent album "Fully Loaded: God's Country". Keys followed Shelton's song with a short speech about progress and artistic expression, coupled with a piano solo. Billy Porter then introduced the Jonas Brothers, who each wore a different gold and black outfit for their performance of their new song "5 More Minutes". While the outfits were admittedly cool, the trio's performance was a let down compared to others of the night. Following on the heels of the Jonas Brothers, Keith Urban and Cynthia Erivo announced this year's best pop solo performance award. The nominees for this award were Beyonce, Lizzo, Billie Eilish, Taylor Swift, and Ariana Grande, with Lizzo coming out on top for her song "Truth Hurts". While Swift was nominated, not once but three times, she opted not to attend the event. 
Daily Show host Trevor Noah, a comedy album nominee, announced best rap nominee Tyler the Creator, was joined by Charlie Wilson and Boyz II Men for the song "New Magic Wand" from his album "Igor", for which he won a Grammy for best rap album. Accompanied by dozens of identically dressed backup dancers and fire, Tyler the Creator's display was certainly one of the most impressive. 
While 21 Savage did not get a Grammy for any albums, he did manage to win the grammy for best rap song, for his recent song "A Lot."
Next up was Bebe Rexha and Shania Twain, who announced the best country duo performance nominations, who were Brooks & Dunn and Luke Combs, Brothers Osborne, Dan + Shay, Little Big Town, and Maren Morris with Brandi Carlile. The Grammy was awarded to Dan + Shay for the song "Speechless". 
A tribute was given to Prince, in the form of Usher performing a few of his most popular songs, paired with dancing by FKA Twigs and drums by Sheila E. While viewers were split on the matter, many received the tribute positively. Usher was quite talented, though perhaps not quite living up to Prince, but some of the dancing seemed unnecessary. 
Comedian Jim Gaffigan made a brief onstage appearance when he introduced Camila Cabello, who sang "First Man" with her father in the audience as home videos of her childhood played. Country singer and 2020 Grammy winner Tanya Tucker performed her song "Bring My Flowers Now" with piano by Carlile before their announcement of this year's comedy album Grammy nominees. Gaffigan, Ellen DeGeneres, Aziz Ansari, and Trever Noah were all nominated, but Dave Chappelle unsurprisingly won once again. However, in characteristic fashion Chappelle did not go on stage to accept the award.
Run-D.M.C. and Aerosmith once again shared a genre combining collaboration of "Walk This Way", which was just as good in 2020 as it was in the 1980's. While neither group won any Grammys this year, Aerosmith received the MusiCares person of the year award only a few days prior. 
Lil Nas X gave a fairly original performance of his hit song "Old Town Road" with collaboration from not only Billy Ray Cyrus, but also Diplo and South Korean boy band BTS. Mason Ramsey from the viral video of a child singing in a Walmart also featured on the song. The sheer number of different artists featured made this one of the more interesting acts of the night. Lil Nas X was awarded two Grammys for his song "Old Town Road", for music video and pop duo performance. 
After an emotional performance of "Anyone" by Demi Lovato, a tribute was given to Nipsey Hussle, who posthumously won an award this year for rap performance, and was featured on DJ Khaled song "Higher." Music greats Meek Mill, DJ Khaled, YG, and John Legend all played a part in the tribute, which was quite tastefully done.
While Sean Combs, better known as Diddy, received recognition during the awards ceremony, he also offered constructive criticism of the Grammys during his speech at a pre-Grammy gala. According to him, African American musicians have not been given fair treatment in the Grammys.
As a newcomer to the music scene Eilish garnered a whopping 5 Grammys this year, largely for her album "When We All Fall Asleep, Where Do We Go", and her song "Bad Guy". Remaining humble after receiving the award, Eilish said she believed that Grande should have received the award. Talent seems to run in the family, as Eilish's brother, Finneas O'Connell, also won a Grammy this year for his work on Eilish's album. While Eilish's work is certainly impressive, especially considering how recently she came onto the scene, the number of awards given to her music seems inconsistent with the quality.
During the awards people had gathered outside the Staples center. They, however, were not there for the Grammys. Instead they had come to mourn the passing of Bryant. Mourners came that night, and the following morning.
Though the unfortunate loss of Bryant and Hussle gave the event a somber quality at times, and the controversies that have plagued the Grammys for years do not seem to have been worked out yet, music fans across the nation were able to gather together to watch the musical artists of this era awarded for their work.
About the Writer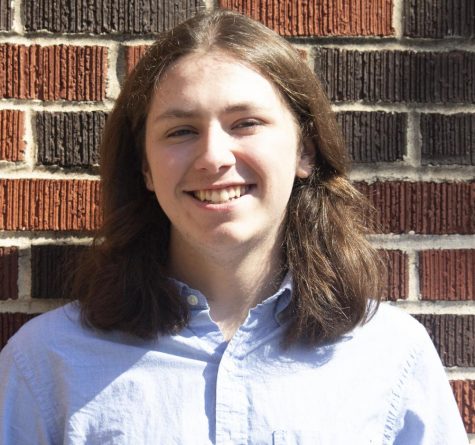 Hayden Chandler, Reporter
How many years have you been in newspaper?
This is my third year on the Bagpipe staff and I was on the middle school staff for a year.
What do you do in your free time / what are your hobbies?
I enjoy reading and walking.
What is your favorite music genre?
Classic Rock
What is your favorite ice cream flavor?
Mint chocolate Chip