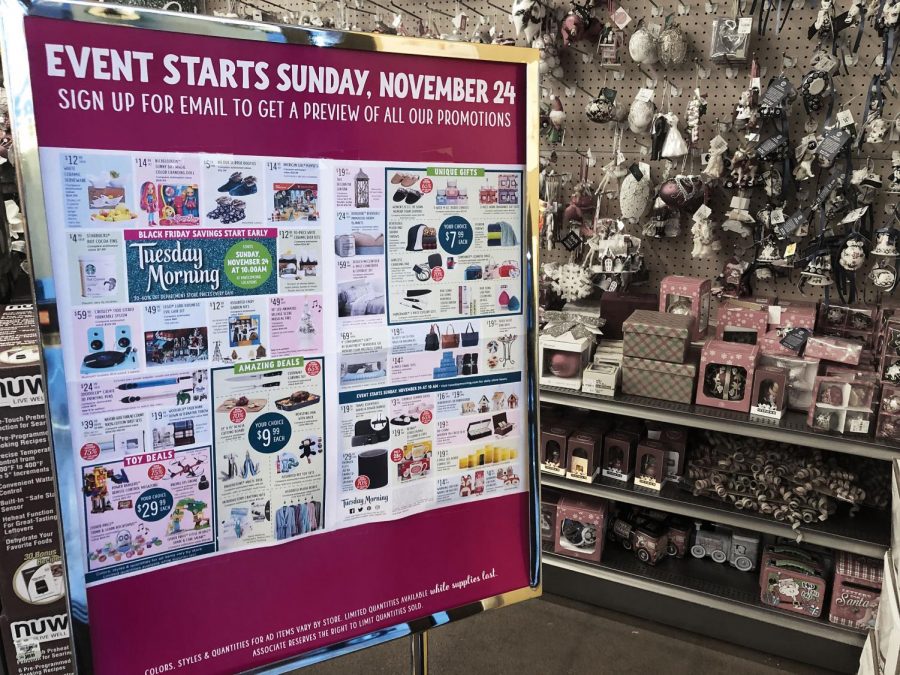 Navigating Holiday Shopping Havoc This Black Friday
Black Friday is every avid shoppers dream, but is the reality of the shopping crazy more of a nightmare?
November 26, 2019
Black Friday is a day of discounts and holiday shopping, whether from in a chaotic mall or sitting at home shopping online. The day has picked up speed since it was dedicated to shopping in the 1980s, and will continue to grow in the future.
History
The phrase "Black Friday" was originally used to describe the calamity that took place on Sep. 24, 1869. Jay Gould and Jim Fisk, two Wall Street financiers, attempted to drive up the price of gold by purchasing as much as possible. The following Friday the stock market crashed, causing bankruptcy for the rich and poor alike. 
In the 1950s, "Black Friday" was used again by the Philadelphia policemen to describe the utter madness that took place the day after Thanksgiving. People would flock to the city for holiday shopping, meaning the cops could not take the day off in order to control the chaos.
Despite an attempt in 1961 by Philadelphia retailers to change the negative phrase to "Big Friday," Black Friday stuck. 
Around the late 1980s, Black Friday was spun to a positive angle by sales people. This created the idea commonly thought of today that Black Friday is the day after Thanksgiving when holiday shopping kickstarts, sending stores "into the black" and making a profit. 
Stores around the United States participate by hosting sale events with "too good to be true" prices in the hopes that holiday shoppers will flock to their stores. 
In more recent years, the Black Friday craze has spread to a four-day ordeal. The National Retail Federation came up with the phrase "Cyber Monday" in 2005 when it was noted that online traffic and purchases escalated the Monday after Thanksgiving. Since then, Cyber Monday has become the day of big online sales and steals. 
In 2010, American Express started Small Business Saturday. This is the day after Black Friday now dedicated to local, small, independently owned businesses. 
Marketing
Stores take advantage of the Black Friday shopping buzz by hosting sales with the hope of increasing store traffic and sales. Big brands like Target already transformed their website with big sale signs and announcements. 
Walmart's website homepage is covered in online discount deals. Stores have gradually started their Black Friday sales sooner and sooner, hoping to increase profit. The Walmart website featured the phrase "Online only: Black Friday prices you can shop ASAP" with the actual date more than two weeks away. 
Eric Hunter, CEO of women's clothing store Lane Bryant mentioned the importance of advertising in preparation for Black Friday. 
 "There is such a competition to get people to come into your stores on Black Friday," Hunter said. "Everybody's fighting each other to try to get customers to shop."
"
There is such a competition to get people to come into your stores on Black Friday. Everybody's fighting each other to try to get customers to shop."
— Erin Hunter
He said store traffic compared to a normal Friday would probably be up 200 percent, which calls for more staffing and product stock off the shelves in store rooms. 
Hunter said they have to start planning 11 months in advance, right after the last Black Friday. There are many factors to sort out, like deciding and buying more products from overseas and and extra staffing. 
"Every year, people announce [their Black Friday deals] a little bit earlier or they start their Black Friday sales earlier," Hunter said. 
He mentioned the difficult timing when releasing sale announcements. The earlier a store announced their deals for Black Friday, the less likely people are to shop in the days leading up to Black Friday. 
Hunter said Lane Bryant normally announces their sales two to three days before Black Friday and begins their online sales on Thanksgiving, when the stores are closed. 
He also mentioned the rise of Cyber Monday and how stores are taking advantage of online sales. 
"Cyber Monday is just as big as Black Friday now," Hunter said. 
Customer Chaos
Today, Black Friday is a spectacle of holiday spirit and credit card swipes. To shop on Black Friday is quite an undertaking, requiring preparation and planning. 
There have been a number of fatalities as a result of the shopping frenzy that ensues on Black Friday. The first recorded death was in 2008, when crowds trampled Walmart employee Jdimytai Damour while scrambling to enter the store.  
So far, there are a total of 10 Black Friday deaths and 111 recorded injuries. Six of the deaths were directly Black Friday shopping related, while the other four were otherwise related. 
Ulta Beauty employee Madonna said she hates Black Friday. She said it was "chaos" in stores. 
"This store goes crazy because on Black Friday, they put out all kinds of new palettes that people are waiting for," she said. 
However another Ulta Beauty employee, Clint, mentioned he thinks Black Friday has somewhat declined in stores due to the rising popularity of online sales. 
From 2017 to 2018, store traffic dropped 1.7 percent on Black Friday, according to ShopperTrak. Online sales from 2017 to 2018 increased 23.6 percent according to CNBC. As overall online shopping rises, in-store Black Friday may slowly diminish.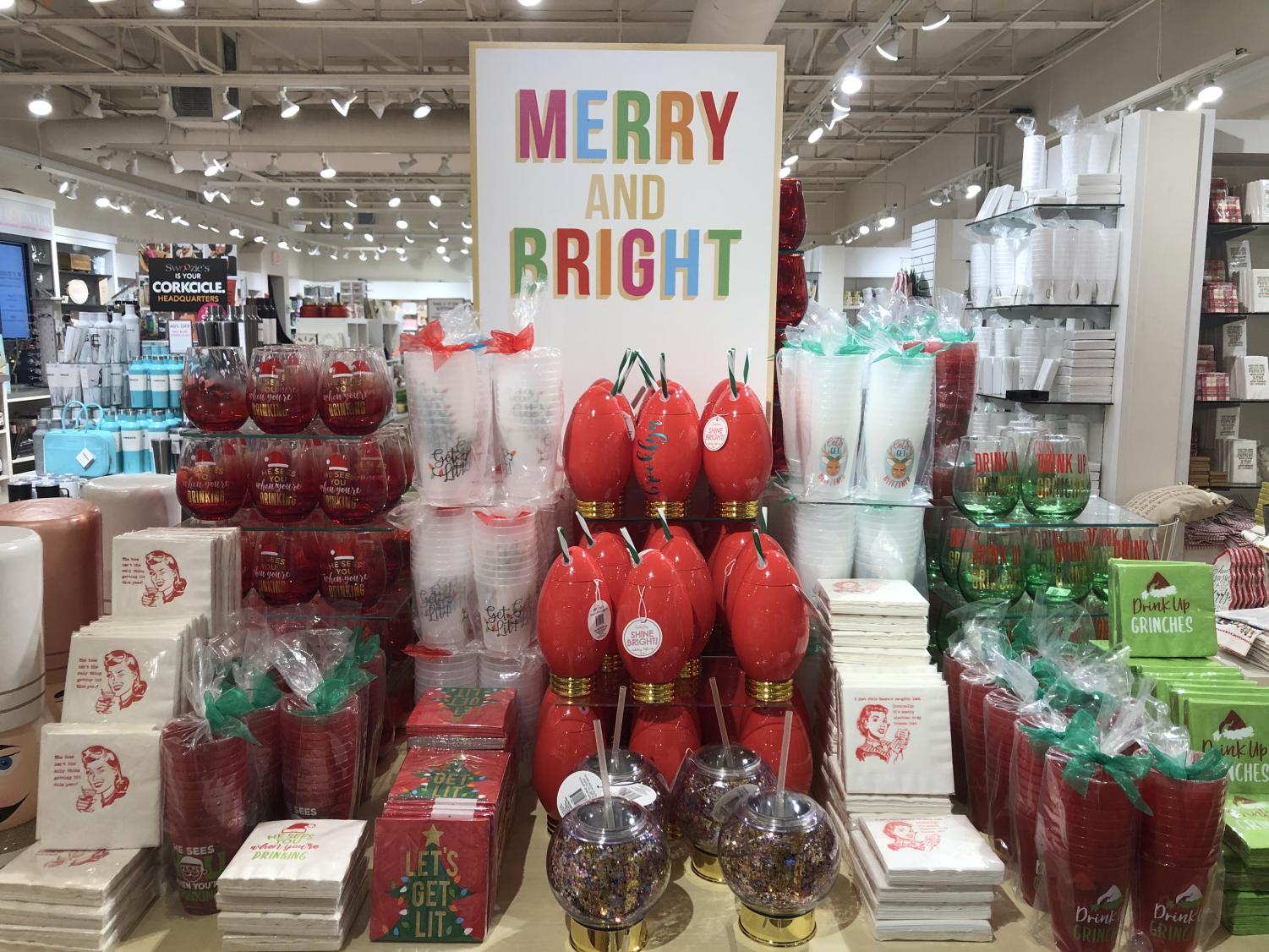 Sophomore Francie Pierce says she goes shopping on Black Friday. She said it can be difficult to deal with crowds depending on where you shop. Aside from the discounts and shopping, Pierce likes how Black Friday kicks off the holiday season. 
"I like that it's the end of Thanksgiving and the start of Christmas," Pierce said. 
Pierce mentioned she also likes online Black Friday shopping because it is easier and quicker than shopping in stores.
2019 Must Have Deals
With Black Friday less than a week away, stores are beginning to announce deals, particularly online. 
Target's online sales have already begun with deals on technology, clothing, toys and just about everything they carry. Not only do they have price drops, they also have special deals like $10 off when you spend $40 clothing, shoes and family items. 
Those Target offers end Wednesday, Nov. 27, but stores open at 5 p.m. Thanksgiving day. As doorbusters, all televisions are on sale, some with savings from $50 to $350, depending on the brand and size. There are also $50 savings on Google Home products. Popular gaming systems, movies, Apple products, cameras and children's toys are also heavily discounted.
In competition with retailers like Target, Best Buy discounts their large electronic products. You can buy televisions for up to $350 off there too. Apple's Airpods can be purchased for up to $35 off, depending on the model. They also are offering a trade-in deals for up to $500 off an iPhone 11. 
Online retailer Amazon also discounted many products, most of which are already on sale. With Amazon, shoppers can avoid the chaos and crowds of brick and mortar stores this Black Friday. Amazon also allows shoppers to filter products by discount percentage, guiding shoppers to the best deals.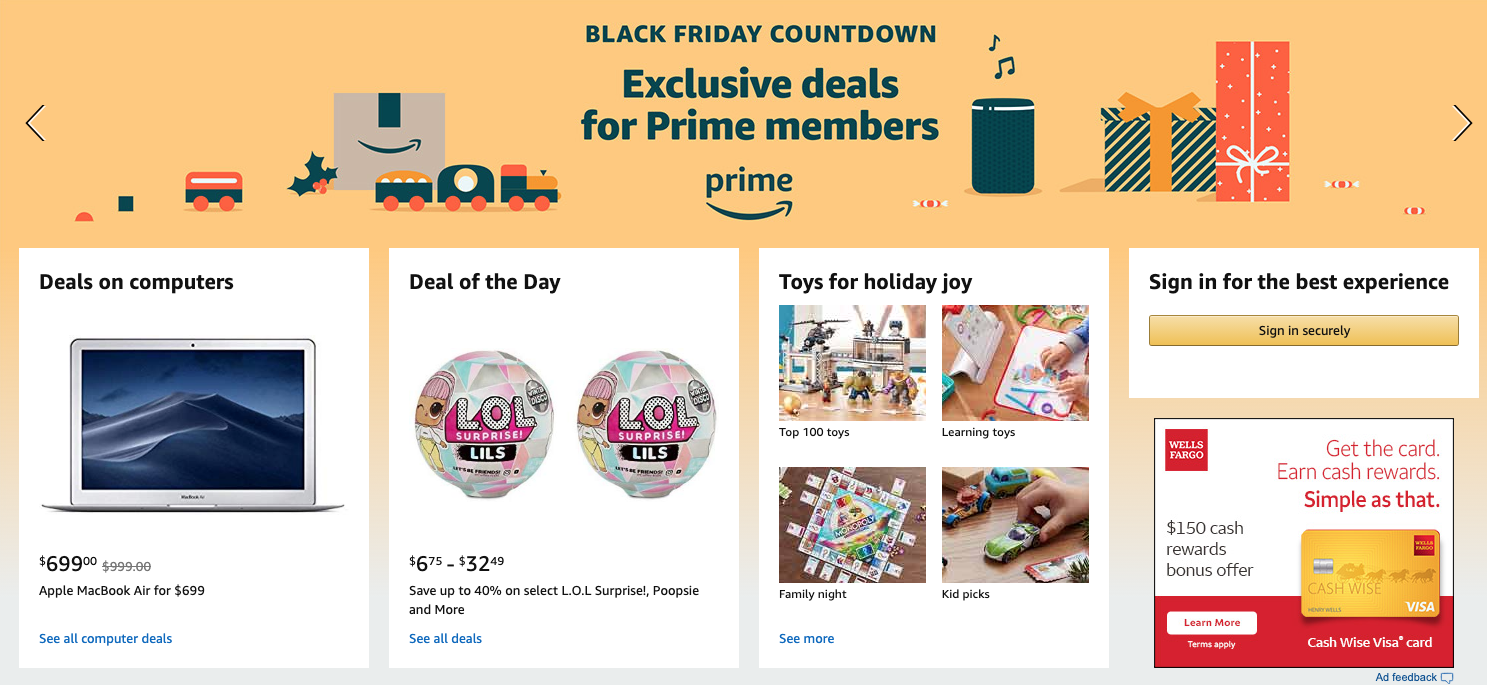 Specifically, Amazon's tech deals will save shoppers hundreds. A 13-inch MacBook is available with a $300 discount, dropping the price from $999 to $699. A Canon EOS T6 Rebel is offered for $350 less than usual. The Ring Video Doorbell Pro with Echo Show 5 is reduced from $338.99 to $179, a 47 percent discount. And Amazon is also offering large discount on their brand name products, such as a $41.99 bundle of the Echo Dot and Fire TV Stick, a savings of over 50 percent.
While shoppers can save on Apple products sold by other retailers, the tech giant themselves do not normally offer as drastic of a price drop as other stores. They are offering gift cards up to $200 with purchase. However, the price depends on how much you spend. 
For non tech gurus, beauty retailers are also offering numerous discounts and sales, as well as package deals including multiple products. Sephora has a number of value sets of brand bundles with additional discounts off of already lowered prices. Ulta Beauty offers a variety of discount deals up to 50 percent off on all products from skincare to hair tools to makeup. 
Nordstrom's currently online sale offers up to 40 percent off designer items. Their website also has a holiday gift guide for customers.
***
Links are merely provided to make further exploration of Black Friday deals accessible to readers. These are not affiliate links.
Shopping Tips
Expect most big store brands to offer a variety of discounts. Be sure to check store websites in the few days leading up to Black Friday, as that's where most big deals are announced. Also, be aware of what deals will be available online to avoid venturing in store when unnecessary. 
When looking for one specific item, it is helpful to check numerous stores to see which one has the best deal. Certain stores will carry the same brands with different sales and bundle deals. For example, Target, Best Buy and Amazon are all offering different deals on Canon cameras. Depending on where you plan on shopping and what you plan on buying, be sure to check for the best deal you can get.