Tennis, Cross Country Earn State Titles At UIL Competitions
tennis wins 20th state title while girls cross country places fifth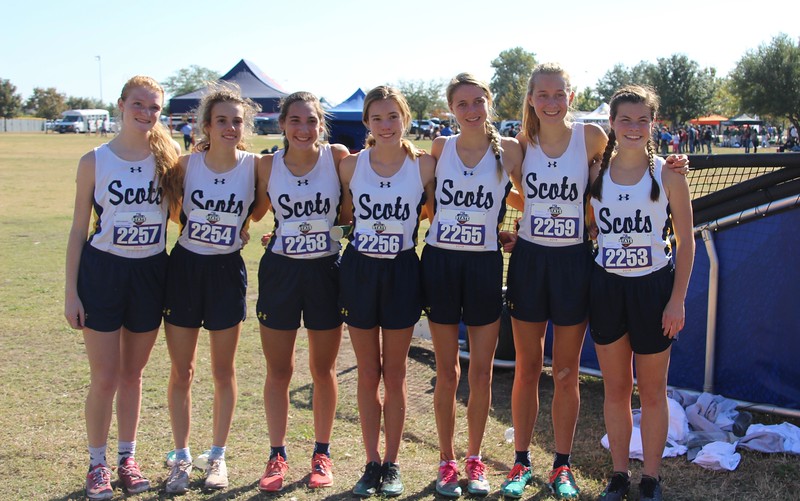 The tennis team and girls cross country team finished their competitive seasons by placing at their respective state competitions.
The tennis team won their 20th state championship and girls cross country placed fifth at the University Interscholastic League State Championships. Both teams experienced success throughout their season leading up to state.
According to girls cross country coach Susan Bailey, junior Cameron Fawcett was their top runner this season. The team competed in six meets during the season and Fawcett won two of them. 
"Fawcett had a great season," Bailey said. "She is definitely our best runner."
Fawcett placed first at district and contributed to the team's district win, which qualified them for regionals. Going into the regional meet, Fawcett felt pressure to place well.
"I was scared for the meet because our team wanted to repeat our regional win from two years ago," Fawcett said.
The team ended up winning regionals. Fawcett placed fourth in the region, followed closely behind by sophomore Alli Grace Ott who placed eighth.
"I was really nervous for sure, I always am," Ott said. "But the nerves turned into adrenaline and excitement and helped a lot."
Fawcett and Ott were two of the seven girls that the team took to the state meet in Round Rock. The other runners were senior Gracyn Applegate, juniors Isabel Blaylock and Elle Thompson and freshmen Grace Hathaway and Charlotte Hudson.
Fawcett, who finished less than a minute behind the winner, placed eighth individually and the team placed fifth overall in the state. This marked the 45th time the team competed in the state championship.
Another team that often goes to their state championship is the tennis team. Since UIL created the team tennis championship 32 years ago, they have made it to state each year. 
This year, the tennis team led yet another successful season. Their motto for the year is "20 for 20," which is a play on ESPN's "30 for 30" documentary. The motto represents how the team wants their twentieth state title and honors the graduating year of the senior class.
The team led an undefeated regular season and won the district, bi-district, area and regional levels before qualifying for the state semi-finals. The team is no stranger to state championships and felt confident going into the semi-finals.
"We are always nervous before the match that we might lose, but we had been practicing a lot and were going in undefeated, so we felt positive we would win," senior captain Annika Juergens said.
In the semi-finals, the team played Georgetown High School. They clinched the win with a score of 10-1 and finished with a final score of 12-2. Later that day, they competed in the state finals.
"We had some really great players that went out and played really hard," head coach Dan Holden said.
These players contributed to the team accomplishing their goal and winning the state championship once again. They beat Alamo Heights High School with a score of 10-1, allowing them to finish their season undefeated. 16 of their 20 state titles were won in the past 18 years and their winning streak is now 89 matches over four seasons.
"The history of winning helps you a lot because when you're used to winning, winning is something you expect of yourself," Holden said. "Our goal was to win a state championship every year, and that's what the seniors accomplished. They're very comfortable playing and getting to state."
The tennis team's senior class has now won four state titles and credits their wins to their commitment to the sport. They practice both during their tennis period and in their own free time.
"I felt really positive going into state because we had been working hard all season and the team had a great work ethic," Juergens said.
They also credit their success to the close-knit feel of the team. Because of the immense amount of time spent together, the team grew very close to each other.
"My teammates' support definitely helped me and knowing that they were behind me [helped me] rise up to the occasion and be the best that I could be," Juergens said.
Both the tennis and girls cross country team's state placements contributed to the school's legacy of winning. The teams are expected to have successful future seasons with the incoming athletes next year.
About the Writer
Alexis Jackson, Reporter
How many years have you been in newspaper?
This is my first year on the newspaper staff.
What is your favorite television show?
That 70s show
What is your favorite music genre?
Old music, rap, and pop music
What is your dream job?
To be a stylist