Student Brand Agents
About two months ago, junior Ashlee Newton received a direct message from a woman claiming to be a Hollister marketing manager. Now, Newton represents the clothing company as a brand agent and has met other agents from all across the country.
On Aug. 3, Newton received a direct message over Instagram from Hollister marketing manager Sydney Scow. Thinking the message may be a scam, Newton asked a series of questions and Scow had answers to all of them. Knowing there were hundreds of applicants and that she did not have a huge chance of getting the job, Newton applied.
To apply, Newton had to send in her resume and a cover letter. One week later, she heard back from them and moved onto the next phase of the process. She submitted a video of herself for her second interview and answered a series of questions relating to school, personality, and what she felt the brand stood for. Once again, she received news that she was moving onto the next phase.
The last phase of the process involved a live interview over video chat. Little did she know, she was speaking with the woman who would later become her manager. About a week after her live interview, she received a call letting her know that she had earned a job with Hollister.
For her first assignment, Newton went to Columbus, Ohio at Hollister headquarters for H-CON. H-CON is a convention that brings all of the agents nationwide together to meet and inspire one another. They also learn what Hollister's all about and what their jobs entail.
"I really loved getting to see all of the behind the scenes of the company," Newton said. "We got to meet the CEO and look at the making of Hollister products, which was really cool."
Not only are they paid, but brand agents also get a large discount on Hollister and Abercrombie & Fitch clothing. Additionally, they get sneak peeks at products before they're released and are told announcements before they are released to the public.
As a brand agent, Newton is required to post one feed post and two stories that are Hollister-based on her Instagram every week. Every month she will host an activation with the other five members of the Dallas market. An activation is where the members of each market work together to promote Hollister through an event based in their city. Newton is looking forward to working with Hollister and the Dallas market for the rest of high school.
"Being a brand agent has given me a new perspective on what I want to do and shown me that there is a lot more out there than I have seen before," Newton said. "It kind of changed my view on what I want to do with my life."
Students wishing to become involved with Hollister can join "Club Cali" to get the first word when new applications come out. Additionally, they should keep up with Hollister's social media and maintain a positive profile of their own.
About the Writer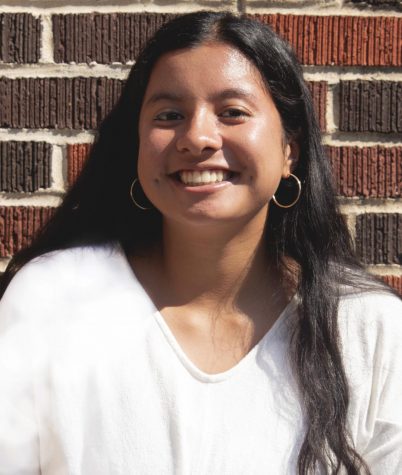 Sophie Jejurikar, Editor-in-Chief
How many years have you been in newspaper?
This is my fourth year on the Bagpipe staff.
What are you involved with at the school?
Band, Youth and Government Club, Out of this Bubble Club, etc.
How would your friends describe you?
Determined, compassionate and grounded
What is your favorite ice cream flavor?
Mint chocolate chip or cookies and cream