Hurricane Florence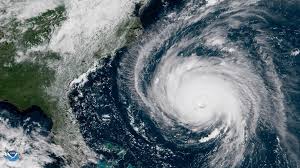 Hang on for a minute...we're trying to find some more stories you might like.
Over one million citizens of North and South Carolina evacuated their homes to escape the terror of Hurricane Florence that hit the coast on Sept. 15. Now, at least 40 people have been claimed dead.
Hurricane Florence hit North Carolina as a category one hurricane. With it came heavy rainfall that caused an even larger hazard than the wind. According to the Weather Service, the highest recorded rainfall was 36 inches in Elizabethtown, NC..
"Hurricane Florence will go down as one of the most significant rainfall events on record in the Carolinas, producing widespread, catastrophic flooding," the Weather Service said, quoted in a Washington Post article.
Over 1.7 million people were urged by state officials to evacuate immediately before the storm hit the states. To prepare, people filled their cars with gas to leave town, shelters were set up, schools and factories were shut down, grocery stores were emptied by people stocking up on food, and roads leading to the shore were closed. North Carolina Governor Roy Cooper,was interviewed and quoted in a Washington Post article in preparation to the storm.
"The time to prepare is almost over," Cooper said. "Disaster is at the doorstep, and it's coming in."
Even though the sun might be shining now in the Carolinas, the flood waters are still rising even after the storm. Officials are warning citizens not to go back to their homes until the waters recede because the roads are completely flooded in some places, but about 100 thousand people in shelters are anxious to get back home and see the damage the storm has caused to their homes.  
"The flooding is like nothing we have ever seen," Cooper said in a CBS News article. "People in hard hit communities do want to go back, but many are still having to wait."
Right now, officials are focusing on getting power back in people's homes, clearing debris after flood waters go down, and helping people get back to normalcy in their lives even though it might take weeks for those things to happen. The damage to the Carolinas is predicted to cost about $1.2 million, but it's hard to tell if that amount is accurate or not.
"It's very difficult for us to get a true sensing of the severity of the impact of the disaster because the disaster is still occurring," said Derrec Becker, a spokesman for the South Carolina Emergency Management Division, in an interview with the New York Times.
According to CNN, farmers in North Carolina have reported that an estimate of about 3.4 million chickens and over 5,000 pigs were lost due to the storm. In South Carolina, farms producing cotton, peanuts and hemp crops have lost close to everything because of the flooding.
"The footprint of flooding from this storm covers much of the same area hit by flooding from Hurricane Matthew in 2016, which only worsens the burden on these farmers," said Steve Troxler, North Carolina Agriculture Commissioner, in a CNN article.
As citizens of the Carolinas return home, they hope for any kind of donations to get back on their feet. The best way to get involved with helping people recover, is donating money to organizations such as the Red Cross and donating blood since the blood bank was greatly impacted.