An end to the Madness
Villanova wins the NCAA Men's Basketball Championship
Hang on for a minute...we're trying to find some more stories you might like.
After a month of brackets, upsets and victory, the Villanova University Wildcats won the NCAA men's basketball tournament, known to many as "March Madness." The 1-seed Wildcats were projected to win it all by eight staff members of SB Nation, while only two predicted the 3-seed University of Michigan Wolverines would pull an upset. Overall, the Wildcats were favored by 6.5 points, SB Nation reports. The Wildcats pulled off a 79-62 win over the Wolverines to take home the trophy Monday, April 2. This was head coach Jay Wright's second win in three seasons, with the Wildcats' win in the 2016 NCAA Men's Basketball Tournament. Wright spoke to ESPN about the experience.
"Now that it's over I can look back and say that this was a hell of a team, man," Wright said. "As a coach, I just feel so blessed to have these kids around me."
The Wolverines finished the season 33-8, dominating 14-seed Montana in the first round, moving on to a close 64-63 buzzer-beater win against Houston in the second round. The Wolverines went on to dominate against Texas A&M in the Sweet Sixteen, and they clenched a close victory against Florida State in the Elite Eight. Michigan then defeated the underdog Loyola Chicago in the Final Four to clench a spot in the championship.
Head coach of the Wolverines John Beilein was interviewed by Andy Katz at NCAA.com after the championship game.
"There was no nonsense," Beilen said. "I'm just telling you, even when you have great teams, you'll have somebody miss a class somewhere or somebody just do something they're not proud of; and you have to deal with that distraction. Or, you get an injury to a key player… and we didn't have any of that."
The Villanova University Wildcats defeated 16-seed Radford in the first round, then continued on to beat Alabama in the second round and West Virginia in the Sweet Sixteen. In the Elite Eight, they faced Texas Tech and then 1-seed Kansas in the Final Four. In the Final Four matchup, Villanova broke the record for most three-pointers in a Final Four game (13), with 18 successful threes, Sports Illustrated reports.
When asked in an interview with ESPN what this win means for the program, Villanova point guard Jalen Brunson commented on his gratitude for the opportunities he received.
"Honestly, I don't know," Brunson said. "But, I just know that, on the inside, we're just so thankful we have this opportunity; we're thankful that we have this special bond with each other. We have this family atmosphere, and we're just so thankful to have each other."

About the Writer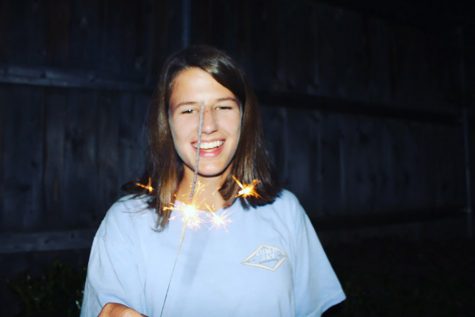 Kate White, Section Editor
Current Grade Level:
10

What is your position on the Bagpipe:
Section Editor

What is your go-to snack:
Pirate Booty

What is your favorite tv...