A successful round of Friendlies
The USWNT secures two wins and Carli Lloyd scores her 100 goal
Hang on for a minute...we're trying to find some more stories you might like.
The United States women's national soccer team faced Mexico April 5 and April 8 in a round of friendlies, emerging victorious both matches. They played in Jacksonville, Florida April 5, and the USWNT dominated the game with a score of 4-1 and 74.6 percent possession. In the first half of regulation, Mallory Pugh put the U.S. on the board with an assist from Megan Rapinoe in the sixth minute. In the second half, Alex Morgan scored twice, once on a penalty kick in the 51 minute and then off an assist from Lindsey Horan in the 53 minute. Carli Lloyd then scored her 99 goal in the 54 minute, assisted by Lindsey Horan. Mexico's Katie Johnson then scored in the 64 minute to put the score at 4-1, United States.
The USWNT then traveled to Houston, Texas to face Mexico again on April 8. Mallory Pugh came right out of the gate and scored in the third minute, assisted by Megan Rapinoe. Mexico then scored twice, putting the USWNT behind 1-2. Lindsey Horan tied it up in the 25 minute with a goal assisted by Megan Rapinoe. Carli Lloyd then proceeded to score her 100 goal in the 34 minute, assisted by Alex Morgan. The USWNT then scored three more goals to secure the 6-2 win, courtesy of Alex Morgan (two) and Megan Rapinoe.
In the April 8 game against Mexico, Carli Lloyd scored her 100 international goal, becoming the sixth ever to do so in U.S. history, ussoccer.com reports. Others to score 100 goals are Michelle Akers, Mia Hamm, Tiffeny Milbrett, Kristine Lilly and Abby Wambach.
"'It's obviously a great milestone, but I've got a lot of things I still want to accomplish in my career,' Lloyd said in a TV interview" ESPN reports. "It's pretty cool, it's an honor. But as people know me, I'm moving on to the next."
After the second game, Alex Morgan made out with 85 international goals, and she is in seventh place on the American all-time scoring list at 28 years-old, behind Lloyd, ussoccer.com reports.
Mallory Pugh finished the day with 11 goals, only age 19. She is currently tied in third place for amount of goals scored before age 20, tied with Christie Welsh and behind Cindy Parlow with 15 and Mia Hamm with 14, ussoccer.com reports.
The United States women's national soccer team not only won both international friendlies against Mexico, but many team members also made history.

About the Writer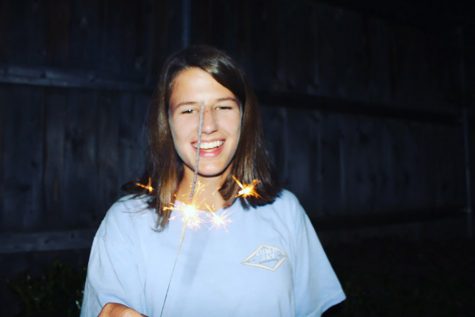 Kate White, Section Editor
Current Grade Level:
10

What is your position on the Bagpipe:
Section Editor

What is your go-to snack:
Pirate Booty

What is your favorite tv...